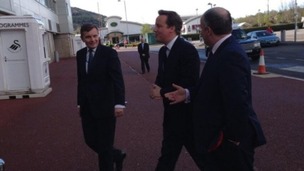 Differences of opinion have resurfaced between Welsh Conservative Assembly Members and between their leader and the Welsh Secretary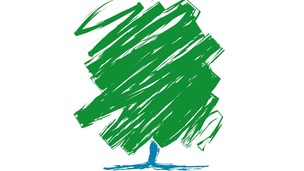 Opposition leader Andrew RT Davies says the 40% tax rate should be reduced if the Welsh Government gets income tax powers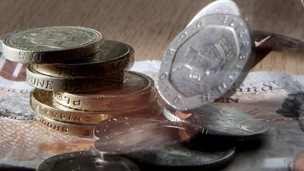 The Welsh Conservatives' Shadow finance minister sets out his view of what sort of business bank Wales needs and why
Live updates
Where next for devolution?
The Welsh Conservative leader says it will be difficult to reach consensus on proposals for further devolution set out in a major report this week. Andrew RT Davies said he feared crime would go up if the Welsh Government were given control of policing.
The Opposition leader said he would 'really struggle to advocate' some of the changes recommended in the second part of the Silk Commission's report although he wasn't saying 'no' to all of its proposals.
And he repeated his commitment to the first part of the report which recommended transferring some tax and borrowing powers. That, he said, was 'the missing piece of the devolution jigsaw.'
Where next for devolution?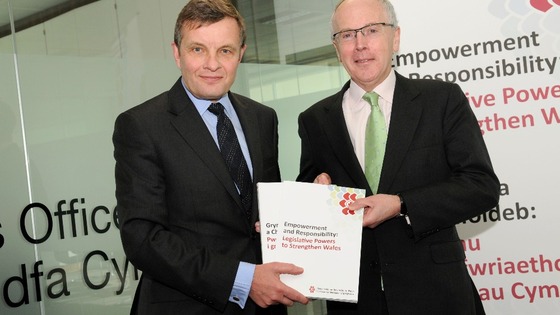 The Welsh Conservatives have limited themselves to thanking Paul Silk and his commission for its work, without commenting on any of the recommendations.
There have been arguments over the detail of the commission's earlier proposals on tax between Welsh Secretary David Jones and the Tories' Assembly leader, Andrew RT Davies. Those disagreements have only just been smoothed over after the Prime Minister met his party's AMs and MPs.
Today, Mr Davies simply called on all political parties to study the recommendations in detail "with the aim of achieving cross party consensus on the way forward".
Advertisement
Met Office: Wettest winter in nearly 250 years
Political Editor Adrian Masters asked the Prime Minister about the public split within the Welsh Conservatives and if he backs Andrew RT Davies following the reshuffle in which he sacked four Shadow Cabinet members.
Wales Barometer Poll
Despite the row over Welsh income tax between David Jones and Andrew RT Davies, both men agree that there should be a referendum on giving the Welsh Government income tax raising powers -and that the Conservatives would campaign in favour. But Tory voters are deeply hostile to the idea.
Detailed analysis for tonight's Sharp End of the latest Wales Barometer opinion poll shows that Conservative voters are the most heavily against, with Labour voters justifying their party leaders' reluctance to embrace the idea. Lib Dem politicians' enthusiasm is not matched by their supporters.
How would you vote in a Welsh Income Tax referendum?
Labour: Yes 36% No 41%
Conservatives: Yes 16% No 71%
Plaid Cymru: Yes 60% No 23%
Lib Dems: Yes 35% No 40%
If Plaid Cymru voters mostly want Welsh income tax, they too could be disappointed. Plaid's leader, Leanne Wood, has said a referendum cannot be a priority due to proposed restrictions on any income tax powers. (The analysis is based on how people would vote when choosing their constituency AM).
Wales Barometer Poll
In response to the latest Wales Barometer Poll, Welsh Conservative leader Andrew RT Davies said,
This poll confirms that the Welsh Conservatives remain the main challengers to Carwyn Jones' lazy Labour Government, which has been in power continuously for 15 years.

Welsh Conservatives are the party of low tax and big ideas to get the Welsh economy growing again and put more money in the pockets of hardworking people.
These figures demonstrate that an increasing number of people recognise that Labour's Welsh Government is to blame for poorer standards in schools and hospitals and the underperforming Welsh economy. There remains some way to go in reminding people where responsibility lies and the only poll results which matter are those on election day itself.
– Andrew RT Davies, leader of the Opposition
'Too few young women' studying science in Wales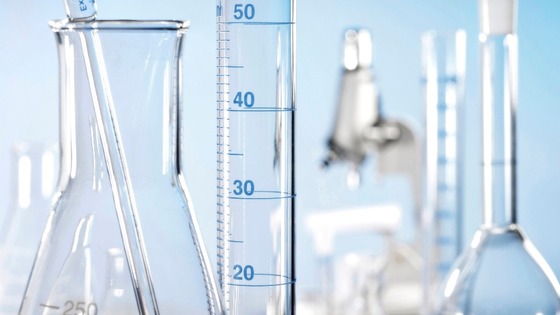 The Welsh Conservatives say fewer young women are studying science subjects at A Level.
Boys outnumber girls by five to one.
The Chief Scientific Adviser for Wales says a science plan's being developed.
It'll include actions to address the low take up of girls for A level physics.
Advertisement
Tory leader reshuffles cabinet following dispute
Welsh Conservative leader Andrew RT Davies explains why he sacked four of his Assembly Members from the Shadow Cabinet. When I asked him if he's worried about the prospect of a leadership challenge, he said simply, 'Do I look worried?'
Divisions within the Welsh Conservatives over plans to devolve income tax have surfaced again after it appeared that three members failed to vote with their colleagues. It's the latest stage in a row between the group's leader, some of his AMs and the Welsh Secretary. Catch up by clicking here.
I'm told there was a 'furious row' in this morning's Tory group meeting but after that members agreed to vote FOR a motion on the draft Wales bill including Plaid Cymru's amendment calling for income tax powers changes. Click here again to see why that matters.
All eligible AMs voted FOR the amended motion but despite that three had failed to vote for the amendment. The other parties believe those three were Conservatives although it won't be confirmed until the voting record is published. If they were, it pits them once again against their leader.
Welsh Conservatives have welcomed the announcement of a review into the way NHS complaints are handled in Wales. Shadow Health Minister Darren Millar says:
This review of Labour-managed complaints handling is wholeheartedly welcome and long overdue.

There are currently thousands of people waiting for complaints to be resolved and concerns to be answered.

All of these cases will be serious for patients and family members. Many will consist of complaints arising from severe emotional distress. All should be answered much more quickly.

This review is the right decision and no stone should be left unturned in efforts to find radical improvement.
– Darren Millar AM, Shadow Health MInister
Tories pledge stamp duty cut
The war of words continues between the Conservatives and Labour over the former's pledge to abolish stamp duty on homes up to the value of £250,000. Click here to catch up on the story so far.
Following Labour's 'more bull than beef' jibe, the Welsh Conservatives have hit back by saying:
This is a fully costed Wales-only policy using soon-to-be devolved competences. Instead of engaging in narrow party politics, the Labour Party should join the positive debate about how we can help families get a foot on the housing ladder
– Welsh Conservative spokesperson
Load more updates
Back to top