UK Government Health Secretary Jeremy Hunt has launched a stinging attack on the Welsh Government for its management of the NHS in Wales, at the Welsh Conservatives Spring Conference in Llangollen.
He said "the Labour government in Cardiff are sleepwalking into a Welsh Mid Staffs tragedy", referring to revelations of poor care and high death rates at the Mid Staffordshire NHS Foundation Trust.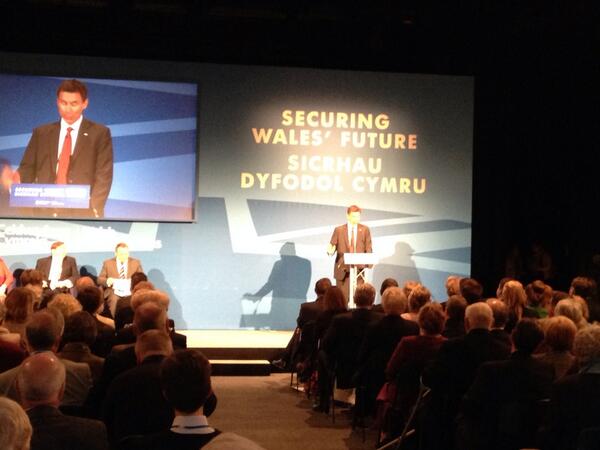 Jeremy Hunt: 'patients have been let down so badly' in Labour's Welsh NHS.
Jeremy Hunt: 'Labour govt in Cardiff are sleepwalking into a Welsh Mid Staffs tragedy.'
Advertisement
Ahead of his conference speech later in which he's expected to criticise Labour's running of the NHS in Wales, two Labour politicians have written an open letter to Jeremy Hunt.
In the letter, Clwyd South's MP and AM, Susan Elan Jones and Ken Skates poke fun of the Health Secretary but also mount a strong defence of Labour's record. Below is an extract:
You've been spending a lot of time talking about the Welsh NHS recently. We will hazard a guess that you will be talking about it again today. Therefore we are writing to you in the hope that your contribution is well informed. Sadly, a number of things you, Grant Shapps, Michael Green and the Prime Minister have said recently have been completely wrong. No wonder you are now asking your officials to write to us to check your facts! You just can't get the staff.
A few miles to the north of here is a town called Wrexham. It is a nice big town, with a university, a football club and a hospital. Judging by some of your recent comments, what you won't know is this: patients from England get treated in that hospital every day. Everything from a nasty fall, right up to upper gastro-intestinal (GI) cancer surgery. We just want you to know that we are fine with that. There are some things we believe in over here - the union, solidarity and the NHS are three of them. So for the 20,000 English patients registered with Welsh GPs, we say that's fine.
The 30,000 English patients who use Welsh A&E services? That's fine too. It would be nice therefore, when Welsh patients are treated in England, if you and your Tory colleagues would refrain from calling them health refugees. Because that's offensive, Jeremy.

One thing though. A few miles east of here is the Shrewsbury and Telford NHS Trust, which our constituents will need to access from time to time. The Trust is currently classed "High Risk" – we'd be grateful if you could have a look at that.
– Susan Elan Jones MP and Ken Skates AM
If the sustained criticism of Labour's running of Welsh public services is a 'Tory War on Wales' as Carwyn Jones and Welsh Labour claim, then you can expect a major offensive to be launched over the course of the next two days..
It's no coincidence that the conference's first speaker is Health Secretary Jeremy Hunt. I'm told his speech will be 'explosive' and 'the strongest attack yet' on the performance of the Welsh Health service.
He'll have to go to some lengths to live up to that billing, given that the Prime Minister described that performance as 'a scandal' at Prime Minister's Questions this week. David Cameron too is also expected to repeat his criticism in his speech.
The Prime Minister will also highlight recent rises in employment as evidence that the UK Government's economic plan is working for Wales. He's expected to say that Conservatives 'are ambitious for Wales' and have backed that with specific actions:
*Anyone can talk up their ambitions for Wales. But my argument today is that true ambition is not easy. It is measured not in your words, not in your love for Wales, not in how much you bang the patriotic drum...true ambition is measured in your actions. - David Cameron *
Meanwhile don't think Labour will take these attacks lying down. Deputy minister Ken Skates has issued a satirical open letter to Jeremy Hunt ahead of his speech.
And Welsh Government sources have seized on the Nuffield Trust Report as showing that the four health systems in the UK are all at similar levels of performance despite strengths and weaknesses in all of them.
As I've reported many times, the Conservatives are convinced of the political value of attacking the performance of the health service in Wales as a means of highlighting what they say Labour would do with the English health service if it wins the next UK election.
The danger for them is that by intensifying the attack at a party conference, voters will see it as cynical and politically-motivated rather than legitimate scrutiny of the Welsh Government's performance.
However that also means there's a similar danger for their opponents. Labour is responding with a political counter-attack but there's no doubt there is genuine concern from patients and their families even among Labour supporters.
Whether or not it is a 'war on Wales' or a war on Welsh Labour, with just over a year to go until the UK election, this Welsh Conservative conference could prove to be a turning point in that conflict.
The Prime Minister is expected to tell the Welsh Conservative conference that ambition for Wales should be measured by action not by 'how much you bang the patriotic drum.'
I come here today with one big, clear message: the Conservatives are ambitious for Wales. I look across this country and have a vision of Wales growing stronger and richer, of more decent well-paying jobs. I go to those vast manufacturing plants that are churning out wings for the biggest planes in the world...and I imagine even more Apprentices learning that craft and getting on in life.
I see the technology scene in Cardiff and think of all the new companies that can start there...Silicon Valley comes to the Valleys. Because for us, it's not enough just to see London and the South East boom...it's not enough just to see a recovery in one part of the country...we want it to reach the parts that were written-off - the towns where a fifth of people live on benefits inner cities where young people feel they've got nowhere to go.We are ambitious for Wales.
Now of course – words are easy. Anyone can talk up their ambitions for Wales. But my argument today is that true ambition is not easy. It is measured not in your words, not in your love for Wales, not in how much you bang the patriotic drum...true ambition is measured in your actions.
– David Cameron
The Prime Minister is expected to tell the Welsh Conservative conference that his government's economic plan is working here in Wales. He'll cite as proof that employment is rising faster in Wales than in any other part of the UK.
On creating new private sector jobs – the plan is well and truly working. Just listen to this. In this past year, we have seen the fastest increase in employment here in Wales than in any other part of the UK. Yes, you heard me right. Wales – which lost out in previous recoveries...Wales – which so often got left behind...Wales has, in the past year, seen a faster increase in employment than any other part of the UK.
Faster than London. Faster than the South East. The UK capital for jobs growth is right here in Wales. That's because we have a serious long-term plan – and that plan is working. So I want everyone here in this hall to hold their head high and be proud to say this: The Conservatives are back in Government...and we are getting Wales back to work.
– David Cameron
Advertisement
Welsh Conservatives are beginning their conference with senior party figures expected to intensify their attacks on Labour's running of public services here in Wales. The Prime Minister and UK Health Secretary will be amongst the main speakers at the conference in Llangollen.
The Welsh Conservative leader says it will be difficult to reach consensus on proposals for further devolution set out in a major report this week. Andrew RT Davies said he feared crime would go up if the Welsh Government were given control of policing.
The Opposition leader said he would 'really struggle to advocate' some of the changes recommended in the second part of the Silk Commission's report although he wasn't saying 'no' to all of its proposals.
And he repeated his commitment to the first part of the report which recommended transferring some tax and borrowing powers. That, he said, was 'the missing piece of the devolution jigsaw.'
The Welsh Conservatives have limited themselves to thanking Paul Silk and his commission for its work, without commenting on any of the recommendations.
There have been arguments over the detail of the commission's earlier proposals on tax between Welsh Secretary David Jones and the Tories' Assembly leader, Andrew RT Davies. Those disagreements have only just been smoothed over after the Prime Minister met his party's AMs and MPs.
Today, Mr Davies simply called on all political parties to study the recommendations in detail "with the aim of achieving cross party consensus on the way forward".
Load more updates