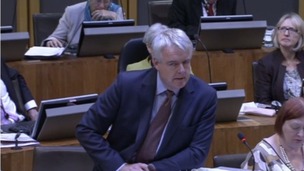 Today's First Minister's Questions were dominated by the sacking of Natural Resources Minister Alun Davies AM.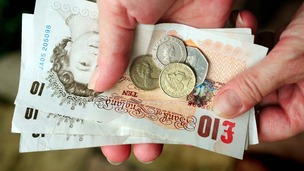 One in six people in Wales are in too much debt, according to a new report. Citizens Advice Cymru has tips on how best to stay afloat.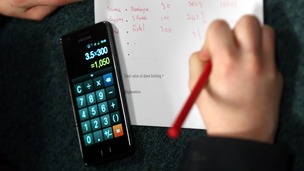 40 struggling secondary schools have been chosen to receive support to try to lift standards, under the Schools Challenge Cymru programme.
Live updates
Study supports plans for minimum alcohol pricing
Wales has come a step closer to seeing the introduction of minimum prices for alcohol. An expert group has told the Welsh Government that the move would 'reduce harm.' But the industry remains to be convinced. Our Political Editor Adrian Masters reports.
Study supports plans for minimum alcohol pricing
The Welsh Conservatives are supporting moves to introduce minimum alcohol pricing in Wales. That's despite a controversial decision last year by David Cameron to drop a similar plan for England. The Prime Minister feared it would be 'unworkable' and open to legal challenge.
But the party's Shadow Health Minister in the Assembly, Darren Millar, says it can work in Wales.
Advertisement
Study supports plans for minimum alcohol pricing
Health Minister Mark Drakeford has welcomed today's expert report on minimum alcohol pricing which he says adds to the evidence that the move would help cut problem drinking.
And he says it won't have any impact on social drinkers.
Most people whose budgets are tight are sensible drinkers, the drink they buy will already be above the 50p minimum price per unit we propose. The evidence in today's report is that this will not have an impact on people who are living in pretty modest circumstances. It will help us to target people whose drinking has gone beyond that."
Most people whose budgets are tight are sensible drinkers, the drink they buy will already be above the 50p minimum price per unit we propose. The evidence in today's report is that this will not have an impact on people who are living in pretty modest circumstances. It will help us to target people whose drinking has gone beyond that.
– Mark Drakeford AM, Health Minister
Study supports plans for minimum alcohol pricing
The price of a drink could go up in Wales if the Welsh Government takes the advice of experts and put a minimum of 50p a unit on a drink.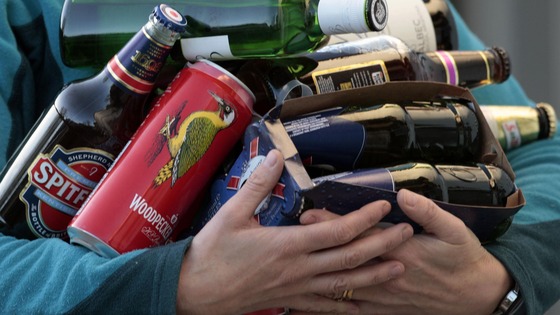 Plans to introduce a minimum price for alcohol have been backed by a panel advising ministers on substance misuse.
Experts said the measure would protect vulnerable people, boost public health and improve community life. It could become law in 2015.
We'd like to know what your opinions are. Would you be happy to pay more for the cheapest alcohol and what effect to you think it will have on Wales?
Email us at wales@itv.com or at facebook or on twitter @ITVWales
Study supports plans for minimum alcohol pricing
The health minister Mark Drakeford says today's report supports the view that a minimum unit pricing of alcohol will help prevent alcohol misuse in Wales.
The Welsh Government first introduced the proposals in a public health White Paper in April which also included a ban on e-cigarettes in public places.
"There is indisputable evidence that the price of alcohol matters. It is no coincidence that as the affordability of alcohol has improved substantially so has alcohol-related death and disease.

"A minimum unit price will make a strong contribution to preventing alcohol overuse and misuse and reducing alcohol-associated illnesses. The panel's report supports this view. "We will now develop our proposals further with a view to introducing the Public Health Bill in early 2015."
– Professor Mark Drakeford
Study supports plans for minimum alcohol pricing
The Welsh Government should introduce the minimum unit pricing of alcohol, an independent health panel has recommended.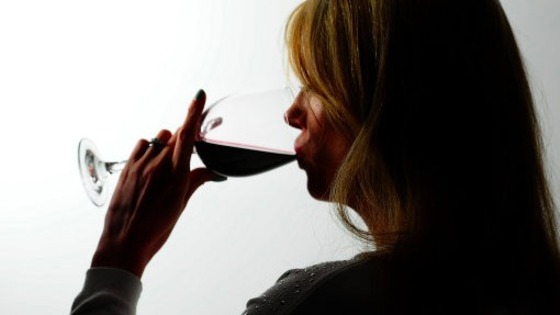 The Welsh Government's Advisory Panel on Substance Misuse (APoSM)says it would help to address alcohol-related harm among people most affected by hazardous and harmful levels of drinking.
Wales has a higher rate of alcohol-related deaths than England. There were 504 alcohol-related deaths in 2012.
In the last 10 years, alcohol misuse accounted for more than 5,000 deaths in England and Wales.
"Alcohol health and social harm problems are preventable. Expert evidence and research confirms cheaper drinks are favoured by those who drink hazardously or harmfully, and a minimum unit price would have a disproportionate targeting effect on problematic drinking, reducing alcohol problems and achieving health and other benefits for individuals and our communities as a whole."
– Kyrie Ll James, chair of the Advisory Panel on Substance Misuse

Last year, the UK Government made a controversial u-turnon the issue due to a 'lack of convincing evidence' that it would have an impact on alcohol consumption.
Advertisement
New M4 puts budget deal at risk
The Welsh Lib Dems are now the only party talking to the Welsh Government about a deal to support the budget. Their leader, Kirsty Willaims, says that following Plaid Cymru's decision to quit the negotiations over the £1 billion Newport motorway announcement says she'll keep negotiating but the plan for the M4 makes it "difficult".
The Welsh Liberal Democrat priority for the next budget continues to be extra support for Wales' poorest school children through our Pupil Premium. However, it's very difficult to see how we can support a budget that prioritises the current M4 proposals and that is what we will explain to the Welsh Government in future negotiations.

The M4 announcement yesterday was a huge mistake. It completely flies in the face of the environmental and economic issues. Our proposed alternatives are far less expensive and less likely to damage vast swathes of the environment. A responsible Government wouldn't spend its entire borrowing powers on one single road, leaving no money left for other transport projects.
– Welsh Liberal Democrat Leader Kirsty Williams AM
Welsh Government plans 10 new laws
Plaid Cymru leader Leanne Wood has said that although legislation is not the only requirement for tackling Wales health and education problems, she's pleased that the Welsh Government has adopted what she claims are some of her parties policies in those fields.
The Qualifications Wales Bill will introduce the independent exam regulating body that Plaid Cymru has called for, although the Labour government will need to do a lot more to convince people that it has the measures in place to drive up standards when it comes to the Welsh education system.
The establishment of a Welsh Treasury through the Tax Collection and Management Bill is a significant move. There is great symbolism in establishing this function, which goes beyond the essential role it will have in administering the devolved taxes and borrowing powers. All self-respecting Parliaments must have the ability to vary taxes. Unlike Scotland, it has taken Wales fifteen years to establish this important symbolic function.
Plaid Cymru very much welcomes the establishment of a Welsh Treasury. For the first time, future Welsh Governments will have acquired the extra economic levers needed for job creation, although the powers proposed in the Wales Bill are limited and will not yet lead to a government that is properly accountable to the people of Wales."--
– Plaid Cymru Leader Leanne Wood AM
Welsh Government plans 10 new laws
Laws that will pave the way for the Welsh Government collecting its own taxes and enabling councils to merge into larger local authorities have been announced in the Senedd. The First Minister set out the legislative programme, the principal laws that AMs will be asked to during the next 12 months.
The Welsh Government says its planning bill will "simplify rather than frustrate" development. A public health bill won't be introduced until next summer but could now include minimum pricing for alcohol, following the recent Supreme Court judgement on the extent of the Assembly's powers.
When I announced this Government's ambitious five year legislative programme I set out our plans to address many of the issues the people of Wales care deeply about, such as improving public services despite the difficult financial situation.
We are now halfway through the programme, and while we have already achieved many of our goals, the ten bills I am announcing today continue our commitment, with legislation that will really make a difference to the people of Wales.
This legislative programme also sees us take action on two major areas of reform, putting in place the measures needed for local authority mergers and entering a new phase of the devolution story by preparing for our new tax-raising powers.
– First Minister Carwyn Jones AM

The 10 bills announced today are:
*Planning Bill *to reform and simplify the current planning system
*Qualifications Bill *to establish an independent body for the regulation and quality assurance of non-degree level qualifications
Additional Learning Needs Bill will be the sixth and final education bill of this Assembly

Local Government Bill** will prepare the ground for reforming local authorities in Wales through a series of mergers**
*Renting Homes Bill *to provide a new legal relationship between landlords and tenants
Social Services Regulation & Inspection Bill to raise the quality of care and support
*Environment Bill *for the sustainable management of natural resources
Heritage Bill** to improve protection of listed buildings and ancient monuments**
Public Health Bill -a consultation on its contents has just closed
Tax Collection & Management Bill will create a tax system
Calls for action over 'avoidable' child deaths
The college says that it recognises the key role healthcare professionals have to play in tackling child deaths, but that broader issues are a contributing factor to most avoidable mortalities.
Every family has the right to high quality healthcare and support, regardless of postcode or income. However it's clear from current figures that Wales is falling short of this and at the cost of hundreds of children's lives.

We know there has already been a lot of good work around child mortality in Wales but what we need now is for the Welsh Government to utilise its devolved powers by making simple yet effective policy changes to tackle the most preventable deaths.
We call on the Welsh Government to stop, listen and implement these recommendations or I fear the gap between rich and poor will widen and children's health will suffer further.
– Dr Mair Parry, Officer for Wales, Royal College of Paediatrics and Child Health
Load more updates
Back to top