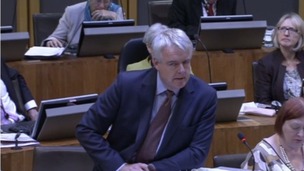 Today's First Minister's Questions were dominated by the sacking of Natural Resources Minister Alun Davies AM.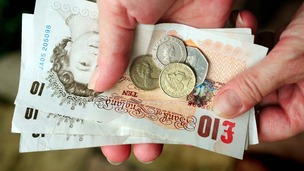 One in six people in Wales are in too much debt, according to a new report. Citizens Advice Cymru has tips on how best to stay afloat.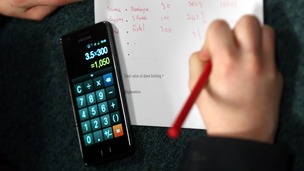 40 struggling secondary schools have been chosen to receive support to try to lift standards, under the Schools Challenge Cymru programme.
Live updates
Calls for action over 'avoidable' child deaths
The Royal College of Paediatrics and Child Health report warns that the growing poverty gap in the UK is affecting child health with children from deprived areas in Wales almost twice as likely to die as those from a less deprived area.
The report makes a number of recommendations where the Welsh Government and devolved powers could help children in Wales 'survive and thrive.'
These include:
developing targeted awareness campaigns to support safe sleeping and the dangers of smoking during pregnancy
prioritising universal access to health visiting services across Wales
ensuring all schools in Wales have procedures to support pupils with medical conditions.
Calls for action over 'avoidable' child deaths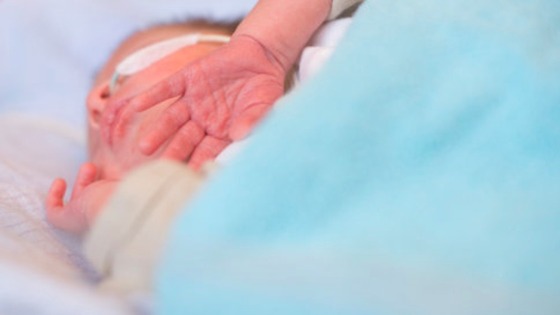 Paediatricians in Wales are calling on the Welsh Government to introduce a series of public health measures to help reduce the number of avoidable child deaths.
A new report from the Royal College of Paediatrics and Child Health found that 61 per cent of children who die in Wales are under the age of one.
The report - 'Why Children Die' - says that Wales is the worst performing country in the UK and calls for more to be done to develop awareness campaigns promoting safe sleeping and the dangers of smoking during pregnancy.
For older children, the report cites injuries and poor management of medical conditions as contributing to preventable mortality in childhood.
Advertisement
Former Minister Alun Davies apologises after sacking
Carwyn Jones says he's sent a hand-written note of apology to the Opposition Leader after their angry exchanges in the Senedd last week. The First Minister had questioned Andrew RT Davies' absence from a meeting between Welsh political leaders and Prince Charles.
He apologised in the chamber after Mr Davies said he'd been ill himself and caring for his mother-in-law following a stroke. But Carwyn Jones told his monthly press conference that he followed up that apology with a personal note which the Conservative leader had 'graciously accepted.'
Plans to make more land available for allotments - in the hope of improving skills, mental and physical health, and regenerating local communities - have been put forward by the Welsh Government.
Proposals published in a Green Paper today include introducing a right for local authorities, community councils and community groups to register and use unused public land for community-grown food.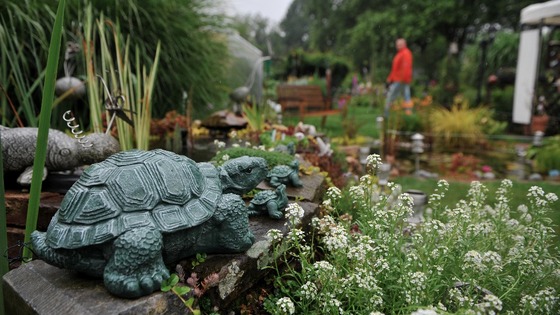 Natural Resources, Culture and Sport Minister John Griffiths said: "People growing food for themselves and their families is a special pastime for many in Wales. It has recently become more popular than ever and many local authorities are struggling to meet demand for allotments."
"Making more land available is therefore vital in meeting this demand and in contributing to boosting physical, mental and emotional wellbeing."
"Opportunities for people to enjoy growing and gardening also have a part to play in tackling the limitations of poverty, empowering and regenerating communities and improving quality of life."
The Welsh Government is holding a public consultation on the proposals until 6 October.
Funding announced to help improve Welsh town centres
The Minister for Housing and Regeneration, Carl Sargeant, has today made a further £5 million of funding available to improve and support town centres in Wales.
The funding will see more 'investment and improvement' in town centres across the country, encouraging more sustainable uses for empty shops in high streets.
This further Welsh Government regeneration funding means that all parts of Wales can now look forward to seeing investment and improvement.

Empty and under-utilised properties are a blight on our town centres and communities and I've been clear that tackling this issue is a priority for me and for the Welsh Government.

We are already making excellent progress in meeting our ambitious target of bringing 5,000 empty properties back into use during this term of Government.
– Carl Sargeant AM, Minister for Housing and Regeneration
Funding announced to help improve Welsh town centres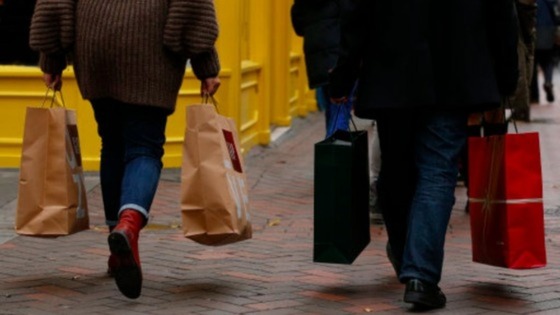 A total of £5 million of funding will be given to help improve town centres across the country as part of a new scheme by the Welsh Government.
The funding will support places not already benefiting from the Welsh Government's regeneration schemes and will target reducing the number of empty shops in high streets.
The scheme will see the money shared equally between four local authorities, with Ceredigion, Powys, Pembrokeshire and Monmouthshire each receiving a loan of £1,250,000.
Advertisement
Welsh Government ministers and their staff spend more time on Facebook, than any other website.
That's according to information obtained by Conservative Assembly Member Antoinette Sandbach's office.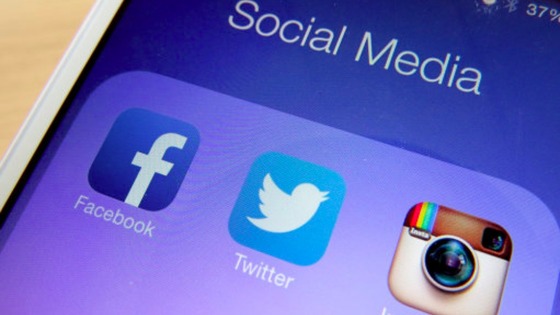 Labour Ministers and civil servants also spend more time on travel review website TripAdvisor and online retailer Amazon than on the Welsh Government's own website.
Amongst the other most visited websites are Ebay, Rightmove, Next, Argos and LinkedIn.
Ms Sandbach said:
"These revelations give an astonishing insight into life in the Labour-run Welsh Government, which is rife, apparently, with people chatting on Facebook.
"While everyone is entitled to a lunch break, there are questions as to why Ebay, Argos, Next and Rightmove feature so prominently in the list of most visited websites by Welsh Government staff."
The First Minister published the top 25 most visited websites by the Welsh Government from 4 April to 3 July 2014.
He says social media sites are a core part of its approach to communicating on Welsh Government business:
"Using the internet helps enhance digital skills more generally, and in addition to access for work purposes, Welsh Government policies allow staff to make use of the internet during hours that they are not working.
"Access is provided to social media channels, including Facebook, Twitter and YouTube, which are a core part of our approach to communicating and engaging on Welsh Government business."
Former Minister Alun Davies apologises after sacking
Assembly Members are calling for a wider inquiry into the actions of sacked Minister Alun Davies.
The former Natural Resources Minister was dismissed yesterday after it emerged he'd tried to find out confidential information about his political opponents.
ITV Wales' Political Reporter Owain Phillips has the story.
Former Minister Alun Davies apologises after sacking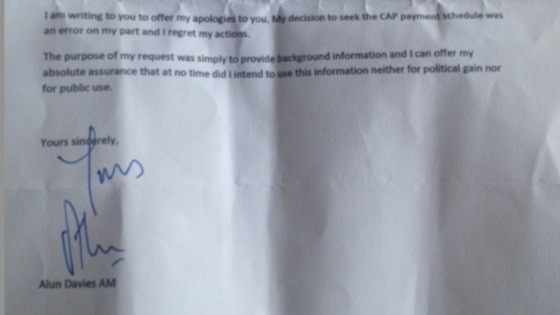 Sacked minister Alun Davies has written a letter of apology to the five AMs who were targeted by his request for civil servants to find out how much each of them receives in farm subsidy payments.
First Minister Carwyn Jones, who apologised in the Senedd yesterday, ruled that Mr Davies' behaviour was unacceptable and sacked him. The former minister has now written to Andrew RT Davies, Kirsty Williams, Antoinette Sandbach, William Powell and Llyr Gruffydd.
His letter reads: "I am writing to you to offer my apologies to you. My decision to seek the CAP payment schedule was an error on my part and I regret my actions.
"The purpose of my request was simply to provide background information and I can offer my absolute assurance that at no time did I intend to use this information, neither for political gain nor for public use."
Many politicians in Cardiff Bay, including the First Minister, have concluded that Alun Davies' request for information, in an email headed OAQs, was to give him ammunition for use at Oral Assembly Questions.
Former Minister Alun Davies apologises after sacking
David Cameron has told MPs that he finds Alun Davies' attempt to get civil servants to unearth details of farm subsidy payments made to his political opponents "a very worrying development".
Later at Prime Minister's Questions, he was urged by the Labour MP for Ynys Môn, Albert Owen, to "end his agenda of attacking Wales at every opportunity".
Load more updates
Back to top