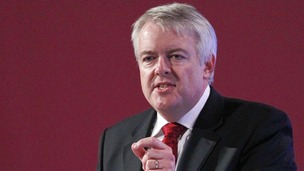 Sources close to the First Minister say his speech to Welsh Labour's conference in Llandudno will be highly personal.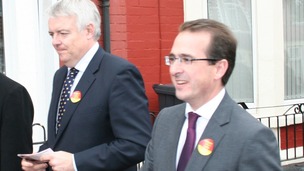 Welsh Labour lists the seats it hopes to win at the next Westminster election, aiming to do more than regain constituencies lost in 2010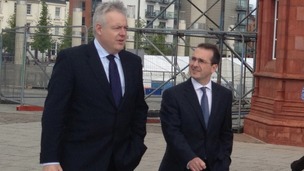 The Shadow Welsh Secretary has told ITV Wales that in some areas, such as education and social care, there's a case for less devolution.
Live updates
Wales Barometer Poll
The first data from the latest Wales Barometer opinion poll shows UKIP now in second place for the European Election in May. A big increase in the party's support since the last poll in December means it has overtaken the Conservatives. Labour are still well ahead.
Labour 39% (41% in December)
UKIP 18% (13% in December)
Conservatives 17% (20% in December)
Plaid Cymru 12% (13% in December)
Liberal Democrats 7% (9% in December)
Others 7% (4% in December)
Wales has four seats in the European Parliament. At the last election, in 2009, UKIP won a Welsh seat for the first time, with 13% support. The Conservatives, with 21%, Labour on 20% and Plaid Cymru on 19%. each also won a single seat.
If the latest opinion poll figures are repeated on election day, Labour would win the first two seats, UKIP the third seat and the Conservatives the fourth. Plaid Cymru would be without an MEP for the first time since the present voting system was introduced in 1999.
Tories pledge stamp duty cut
Not surprisingly, Welsh Labour has seized on the Treasury's refusal to cut stamp duty to attack the Welsh Conservatives. You can read what the Treasury said by clicking here.
It's important to note that what the Treasury rejected was the idea of a UK-wide cut to the tax before 2015 whereas the Welsh Tories' pledge is to abolish it for houses up to the value of £250,000 in Wales once control is transferred to the Welsh Government. Read more about their proposals here.
But this is politics and if the original pledge is all about sending a low-tax, aspirational message to voters, the response is equally about portraying the Welsh Conservatives negatively. Here's what Labour AM Ann Jones says:
The one day wonders of Welsh politics have been caught out again. First it was a return to 1950s grammar schools, then massive tax cuts for the rich, and now an uncosted proposal for cutting stamp duty. This latest wheeze has immediately been rejected by the Tory controlled Treasury in London. The average life expectancy of a Welsh Conservative policy proposal has now dipped below 24hrs.
Rather than offer serious policies to take Wales forward the Welsh Tories have been caught out chasing empty headlines. Andrew RT Davies may describe himself as '19 stone of prime Welsh beef' but we're seeing a lot more bull than beef at the moment.
– Ann Jones AM, Labour
Advertisement
Welsh Tories' housing plans
Labour has criticised proposals unveiled by the Welsh Conservatives aimed at boosting affordable housing. The plans include revitalising the right-to-buy scheme but insisting that a new home is built for each one sold to a tenant. Click here to read more.
Labour AM Mike Hedges criticised the Welsh Conservatives for 'astonishing nerve' in bringing forward 'poorly thought-out housing proposals.' He said:
Whilst a Welsh Labour Government are always open to ideas to improve housing, no matter how unlikely the source, there are simply not enough details in these proposals to take them seriously. The fact that there is scant or no attention paid to the quality of homes, tenants, homelessness or social housing in these proposals show how out of touch the Tories have become and how distant they are to the results of their austerity politics in Westminster.
Their proposed reform of Right to Buy suggests spending all the receipts on housing on a one to one basis – if you offer tenants the opportunity to buy their homes at a discount, then will the receipt to enough to build a replacement property – where would any additional resources come from to deliver a one for one initiative?
– Mike Hedges AM, Labour
Welsh Tory education plans row
The Welsh Conservatives are dismissing the latest Labour attack on their spending priorities which Llanelli AM Keith Davies says would have led to nearly 10,000 teachers losing their jobs since 2011. Welsh Tory leader Andrew RT Davies says:
Far from cutting the number of teachers in Wales – Welsh Conservatives would empower them, giving staff and parents far more say about what happens in classrooms.

Direct funding of schools would get rid of the unwanted red tape and bureaucracy that hampers our teaching staff - while freeing up a hundred million pounds of additional investment for schools.
We will take no lectures from a hypocritical Labour party that has got it catastrophically wrong on education for the last ten years. Their own education minister was sacked last year because he disagreed with Labour policy.

It is Keith Davies's party that has driven our education system into the ground and put our pupils at the bottom of the UK league table. He should apologise – not launch playground attacks on other politicians.
– Andrew RT Davies, leader of the Opposition

Meanwhile Shadow Education Minister Angela Burns said it's been Labour which has presided over school closures.
We have long campaigned for direct funding of schools in Wales - empowering teachers, boosting morale, cutting unwanted Labour bureaucracy, and investing in schools.

Keith Davies unashamedly fails to mention his own party's cuts to the education budget – and the numerous school closures driven through by Labour.

Perhaps he can tell us how many teaching jobs Labour has cut in the last ten years?
– Angela Burns AM, Shadow Education Minister
Welsh Tory education plans row
Conservative spending priorities would have led to nearly 10,000 teachers losing their jobs, according to a Labour AM. Welsh Tories have repeatedly said they would have protected health spending since the 2011 Welsh election and have acknowledged that other departments would have seen bigger cuts.
Labour's calculated its figure based on a 12% cut to education set out in the Welsh Conservatives' alternative budget for the 2011 election. It says analysis by the Assembly Members' Research Service shows that level of reduction would be the equivalent of 9,757 full time teachers' jobs.
Llanelli AM Keith Davies said it would have been 'catastrophic' for the education system:
Either the Welsh Conservatives are playing politics, as they know full well there is more chance of Andrew RT Davies winning Mastermind than becoming First Minister of Wales, or they are deadly serious about savaging teaching staff numbers so ruthlessly that we'd face classes of 50 or 60 pupils.

We are all fully aware of the grim financial situation that frontline services face in Wales because of David Cameron's vicious austerity programme, but to concentrate cuts on education on such a scale would bring the school system to its knees.
– Keith Davies AM, Labour
Welsh Govt spending plans
The Welsh Government will set out its spending plans for the coming financial year when it publishes its Draft Budget later.
Ministers have warned that there will be tough decisions taken as a result of tighter funding settlements from the UK Government compared with previous years.
It is thought that spending on health will be prioritised but that will mean every other department could face reductions.
Local councils have already been warned to expect large cuts to the local government budget.
Labour doesn't have a majority of seats in the Senedd and so needs at least one other party to support or abstain its budget.
Over the summer, the Finance Minister Jane Hutt has been holding talks with Plaid Cymru and the Liberal Democrats who've pledged only to negotiate together.
Advertisement
Most for more Assembly powers
A Welsh Labour spokesperson has responded to the poll carried out for the Silk Commission on devolution in Wales:
This poll is a welcome endorsement of Welsh devolution and highlights public support for taking the Silk recommendations forward. Hopefully this will prove to be a catalyst for the Tories and Lib Dems, who have continued to drag their feet on Silk, showing utter contempt for the people of Wales.

Whilst support for the devolution of further powers to the National Assembly for Wales continues to grow, support for independence remains stagnant at a paltry 9%. Many people in Plaid and beyond will be questioning their relevance.
Health shake-up announced
The Welsh Conservatives say they've discovered that a Labour campaign name to fight controversial changes to the Royal Glamorgan Hospital was registered online four days before the announcement was made.
They've found an online record of the domain name 'LABOUR4ROYALGLAM' being registered on the 19th May. A public consultation on proposals for A and E services in South Wales was announced on 22nd May. They say the campaign's Facebook and Twitter pages have also been changed to 'Campaign4RoyalGlam'
Opposition leader Andrew RT Davies has accused Labour politicians involved in the campaign of 'hypocrisy' and says the online discoveries raise 'serious questions' about both the consultation and Labour's campaigning role.
This sorry affair raises questions that need to be answered. How did they know that the Royal Glamorgan was included in the proposals some four days before the announcement? How can the public have confidence in the legitimacy of a consultation process that seems to give Labour politicians the inside track? And, finally, why have all traces of the original website, Twitter and Facebook pages now disappeared?"
– Andrew RT Davies, leader of the Opposition
Tory plans for Cardiff Airport
Labour has responded to plans set out by the Welsh Conservatives to boost the fortunes of Cardiff Airport with a view to re-privatising it by saying that the decision to accept the airport's public ownership is a 'welcome u-turn.'
After months of burying his head in the sand, it's encouraging to see Andrew RT Davies now finally making this welcome u-turn and backing the Welsh Labour Government's interventionist approach.The Welsh Conservatives have been swimming against a wave of public opinion so it's no surprise to see them change tack and finally admit they've got it wrong.
We welcome the fact the Welsh Tories have joined the Welsh Labour Government in calling for the devolution of Air Passenger Duty. We now look forward to them stating publicly what representations they've made to the Prime Minister and Chancellor of the Exchequer on this issue.
– Vaughan Gething AM, Labour
Anglesey council deal struck
The leader of Labour's three councillors on Anglesey council, says the deal reached with Independent councillors to run the authority 'will provide stability' for the island. Arwel Roberts said:
Last week's local elections gave us the chance of a new beginning. Every single person elected last week owes it to the people of Ynys Mon to work to secure an administration that will provide stability and deliver for our people. That is exactly what we have done.This partnership will deliver the stability we need, offering a clear majority for the administration. It will also put jobs and investment in the Island at the very heart of all that we do. The priority of Labour councillors will be to secure continued progress on 'Wylfa B'- jobs and training opportunities for our young people.
Now is the time for all parties to put the damaging politicking of the past behind us, and work to deliver stability, and a future that the people of Ynys Mon can be proud of. Regardless of whether they are part of the administration or not, the doors of Labour Cabinet members will be open to all councillors who want to be part of a constructive future for the island.
– Cllr Arwel Roberts, Labour group leader
Load more updates
Back to top