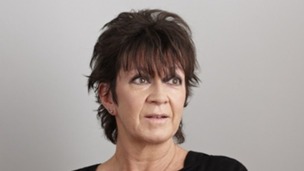 Education Minister Leighton Andrews rejects proposed standards for services in Welsh drawn up by the Language Commissioner, Meri Huws.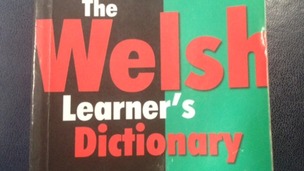 Welsh language supporters are to meet First Minister, Carwyn Jones to call for policy changes following the recent census results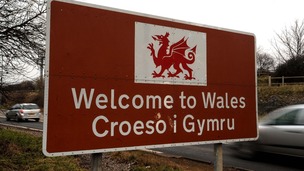 The 2011 census shows fewer people speaking Welsh, most saying they are Welsh, fewer described as religious, and more cars on our roads.
Live updates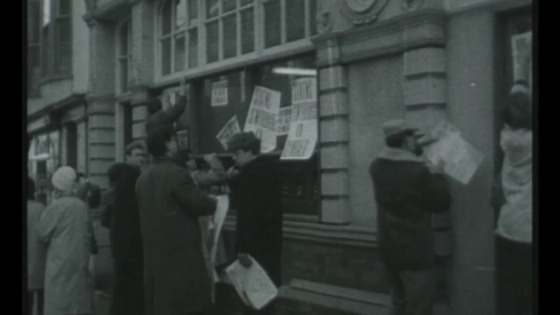 A plaque celebrating 50 years since the formation of the Swansea.
In January, to mark the start of the group, 500 members and supporters of the society held a rally on Trefechan bridge in Aberystwyth. Five decades earlier, in 1963, this bridge was blockaded by people during the society's first protest.
For more news on the Welsh language click here.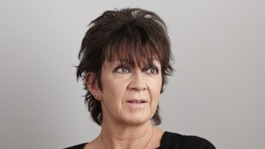 Education Minister Leighton Andrews rejects proposed standards for services in Welsh drawn up by the Language Commissioner, Meri Huws.
Read the full story
Advertisement
A delegation of Welsh language supporters have been met the First Minister to ask him for changes in policy that they say help stop the decline of Welsh revealed in the recent Census.
Chair of Cymdeithas yr Iaith Gymraeg Robin Farrar says the meeting was "constructive".
Welsh Language Society members say they had a 'constructive' meeting with First Minister on urgent action needed in wake of census results.
Welsh Language Society says First Minister agreed to respond to their 26 recommendations for action by 6 June.
Cymdeithas members say First Minister was 'sincere' in his wish to safeguard future of language; gave them more time than they expected.
Welsh festival's £20,000 grant
It is extraordinary for the Welsh Government to cherrypick cuts being imposed by their Labour chums in Cardiff Council.

"This sets a dangerous precedent, sending a message to local authorities that if they propose irresponsible cuts to essential services, they will simply be bailed out by the Welsh Government.

A cynic would think Welsh Labour Ministers are putting the narrow interests of their party before the country by bunging their council colleagues £20,000 to help them meet a pre-election vote-grabbing pledge."
– Janet Finch-Saunders AM, Shadow Minister for Local Government
Welsh festival's £20,000 grant
Cardiff's annual 'Tafwyl' Welsh language festival is to receive £20,000 in funding from the Welsh Government.
It follows last week's announcement that Cardiff Council would no longer fund the festival, as it attempts to save £22m from its budget in the next financial year.
Festival organiser Menter Caerdydd says the funding will help "secure the future of the festival in its current format".
This is a unique case. This important cultural festival has expanded year on year since it was launched in 2006 and is invaluable in promoting the Welsh language. It has the potential to become a national event in our capital city.

"I recognise that Cardiff's budget negotiations are still ongoing. However, I have acted now to ensure there is no prolonged period of uncertainty for the Festival organisers, or for those people from outside the capital who are planning to travel to Tafwyl. Over 10% of those who attended last year were from outside Cardiff.
I have come to this decision following a discussion with Cardiff's Cabinet Member for Culture, Cllr Huw Thomas, who I know was working hard to find a sustainable future for the Tafwyl celebration.

Cllr Thomas has committed to Cardiff once again providing support in kind through the supply of the Cardiff Castle grounds and considerable staff time and officer support. Now that the uncertainty for 2013 has been removed, discussions can now focus on how the event develops in future years.
– Leighton Andrews AM, Minister for the Welsh Language
Advertisement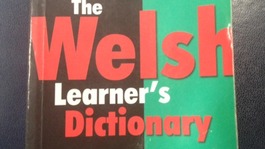 Welsh language supporters are to meet First Minister, Carwyn Jones to call for policy changes following the recent census results
Read the full story
Welsh language rally
The Welsh Government has responded to protests by Cymdeithas yr Iaith, which also included a large rally in Merthyr Tydfil at the start of January, by saying it will continue to work to 'ensure' the Welsh language thrives, and pointing to its Welsh language strategy published last March.
The strategy recognised the fragile state of the language - and emphasised the need to promote and facilitate its use across all walks of life, with a particular focus on the use of Welsh within the family setting; providing opportunities for children and young people to use Welsh socially; supporting the use of Welsh in communities; the use of Welsh in the workplace and developing the use of Welsh in information technology, including its use with social media.
– Welsh Government spokesperson
Welsh language rally
The main reason we came as a family to live Carmarthenshire, was the Welsh language and culture. I wanted my children to be brought up in a Welsh-speaking area, where the language is quite natural. The recently published census figures have horrified me as an individual and as a parent. We all have a responsibility to ensure that our language is spoken and heard everywhere! I'm very proud to be a Welsh speaker, and I'm determined to continue to live my life in the language of heaven!
– Julian Lewis-Jones, actor - signed the pledge
The census results have shown a reduction in the number of Welsh speakers across Wales, and the biggest drop was here in Carmarthenshire. I am glad that over 500 turned out to show their support for the rally - it is clear that the people of Carmarthenshire want to live in Welsh. This is only the first step. At a meeting following the rally we discussed the next steps of the campaign here. We will continue to press on the Government and the County Council to enable us to live in Welsh and our hope is that over a thousand people will have signed the pledge before the end of the month.
– Sioned Elin, Chairperson of Cymdeithas yr Iaith in Carmarthenshire
Welsh language rally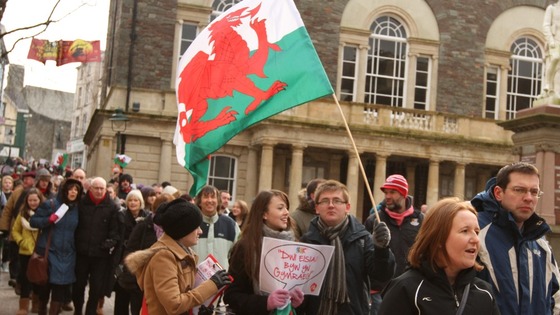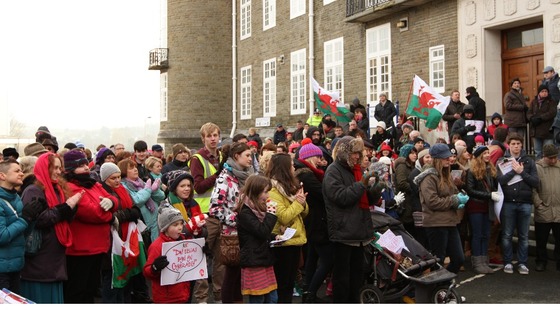 Load more updates
Back to top