Painting found in mid Wales expected to fetch £100K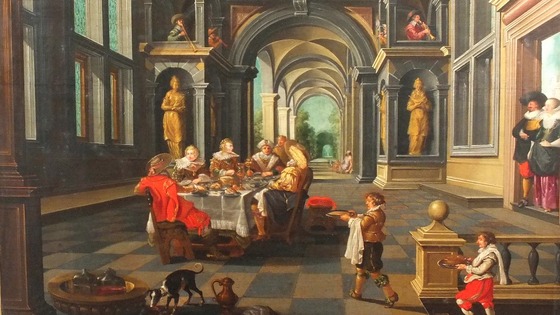 An old master oil painting by Dutch artist Dirck van Delen discovered in a mid Wales country cottage is expected to fetch more than £100,000 when it's sold at an auction in Shropshire later.
The important painting, entitled 'Dives and Lazarus', has been consigned to Halls' fine paintings, silver and jewellery auction in Shrewsbury today by a prominent mid Wales family.
The 61.5cm by 73cm oil on panel was discovered in a cottage in the Welshpool area by the head of Halls' art department, Allan Darwell.
"From the moment I saw it I knew it was 17th century and special," he said.
"Because it was so dark in the house, I couldn't see a set of initials on it. It was only when it was delivered to our saleroom and I examined it closely under lights that I identified the initials of Dirck van Delen."
The painting has been identified by art historian Bernard Vermet, from the Foundation for Cultural Inventory in Amsterdam, as one of van Delen's earliest works.