Live updates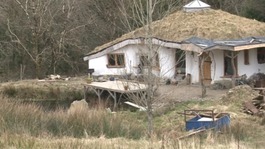 A couple are fighting to save their Hobbit-style home after they built it without seeking planning permission.
Read the full story
There are hazardous driving conditions due to snow on the A40 in both directions between West Street (Blackbridge Roundabout) and A478 (Penblewin Roundabout).
Advertisement
A large amount of slurry has polluted a tributary of the River Taf in Carmarthenshire.
Environment Agency Wales were called to the Nant Cwmfelinboeth, north of Whitland, late last night after a call from member of the public.
Biologists and fisheries officers are currently assessing the full impace on the environment and local wildlife.
A significant quantity of slurry has entered the river and we are continuing work to find its source and to establish what impact it may have had.

Local people should be aware that the river is likely to remain discoloured for several days and they may also notice signs of a foam like material in the water as the slurry begins to break down.

This is one of a number of incidents that has happened in the area in recent times and once we have located the source we will take the appropriate action against whoever is responsible.
– An Environment Agency Wales spokesperson

Any one who spots any further signs of pollution in the river should report it via the agency's incident hotline on 0800 807060.
Serious road crash kills two people
Two people have died in a collision involving five vehicles on the A40. The incident happened between Dryslwyn and Llandeilo at about 4.25pm on Tuesday.
A driver and passenger were pronounced dead at the scene after their silver Vauxhall was impacted during the crash.
Dyfed-Powys Police say that full details of those who died haven't been released but they are believed to be from the Whitland area and next of kin have been informed.
Other vehicles involved in the collision include a Blue Peugeot 307, a grey Mazda motor caravan and a HGV and a DAf lorry.
Police are appealing for any witnesses who may have seen the collision or were travelling on the particular stretch of road at the relevant time to contact Carmarthenshire Roads Policing Unit on 101.
A lorry driver accused of causing a train crash has appeared in court. Oswald Davies from Llanboidy in Carmarthenshire was using a level crossing near Whitland when his hay lorry and trailers were struck by a Milford Haven to Manchester train last December.
Davies is charged with endangering the lives of railway passengers. Swansea Magistrates released him on bail until he appears before the city's crown court in in October.
Three people have been treated for their injuries after a train collided with a lorry in Whitland, Carmarthenshire. Mid and West Wales Fire and Rescue Service say they were called to the Llanboidy level crossing on the B4328 at 15:55.
All 45 passengers remain on board the three carriage train which is still at the crossing on Station Road.
British Transport Police say that the small lorry was involved in a 'glancing blow' with the train.
Arriva Trains Wales have confirmed that services between Carmarthen and Haverfordwest have been suspended with busses replacing trains.
Advertisement
Driver killed in lorry crash
Dyfed-PowysPolice is investigating a fatal three lorry crash where a 25-year-old male driver was killed. The crash happened on the A40 at Pengawse Hill near Whitland before 6am on Friday. The road is not due to open until 5pm.
Weather and Travel
The A40's closed in both directions after a serious accident between A4066 Tenby Road / A477 (St Clears Roundabout) and A478 (Penblewin Roundabout) Emergency services are at the scene on Pengawse Hill. The road's likely to be shut for several hours.
Police say it's affecting traffic between St Clears and Haverfordwest. The diversion is via A477 to Kilgetty and A478 through Narberth to the Penblewin Roundabout
Weather and Travel
The A40's closed in both directions after an accident between North Road (Whitland) and A478 (Penblewin Roundabout).
Back to top