A goal from Louis Moult put Wrexham in front at half time as they play Torquay in the Conference. Torquay 0-1 Wrexham (HT).
Wrexham AFC managed a win over Eastleigh in the Conference this afternoon.
Elliott Durrell scored the side's opener in the 12th minute followed by Wes York's goal in the 27th minute.
The home side went into the second half confident rounding off the game with a right footed shot from outside the box by Andy Bishop in the 71st minute.
Wrexham now move to sixth place in the table.
Advertisement
Wrexham gave their Conference promotion hopes a boost this afternoon, with a 1-0 win away at Forest Green.
Louis Moult got the only goal of the game in the 54th minute from a free kick.
It is Wrexham's third away win in a row - and moves them up to seventh in the table.
Wrexham have been beaten by Woking in the Conference after a second half goal by the visitors.
Wrexham managed to equalise in the first half with a goal from Louis Moult.
But, Dean Morgan scored Woking's second goal with a left footed shot in the 66th minute.
Wrexham are currently drawing with Woking in the Conference after a late goal just before the half time whistle.
Woking's Scott Rendell put the visitors in the lead with a goal in the 23rd minute.
Wrexham equalised 15 minutes later after a right footed shot by Louis Moult.
Wrexham kept their first half lead through a goal-less second half. Final score Wrexham 1-0 Nuneaton.
Advertisement
Louis Moult's goal put Wrexham in the lead at half time against Nuneaton at the Racecourse.
Wrexham enjoyed a dream start to the new Conference Premier season, beating Dartford 2-1 away from home. Despite conceding a second half goal, two Wes York strikes after the break secured the spoils for the Dragons
Reds get off to a great start in the Vanarama Conference with three welcome points at Dartford.
Wrexham are 1-0 ahead at Dartford at half-time in the Conference Premier.
Wes York put the Welsh side ahead after half an hour, in the first game of the season.
A Jennings cross from the left wing to the back post where Wes York did well to make sure his effort got over the line, with Brown diving.
Wrexham are away at Dartford in their first game of the new season in the Conference Premier.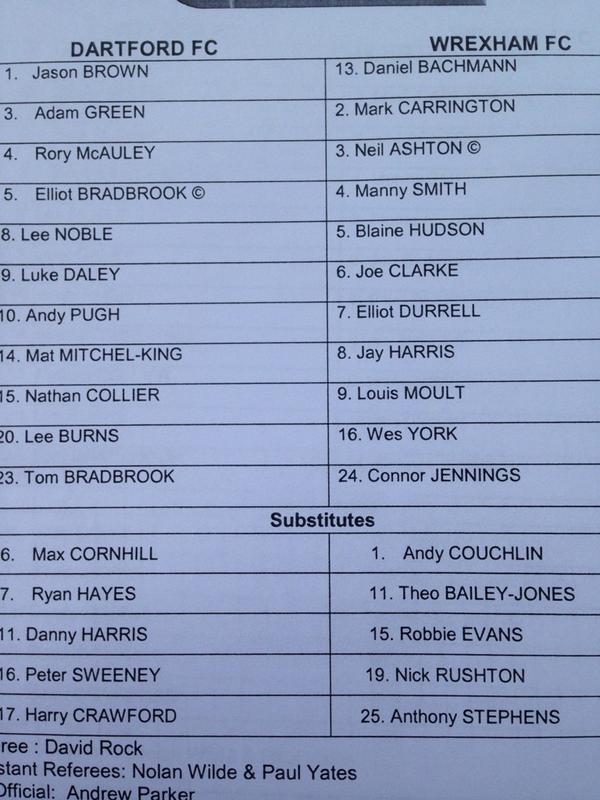 Load more updates