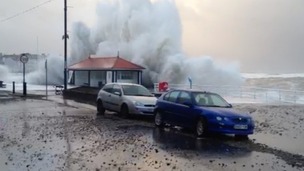 These videos show the ferocity of the waves hitting Aberystwyth seafront this morning, leaving the roads strewn with debris.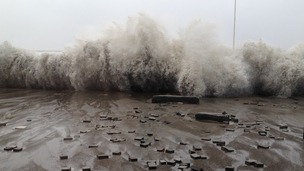 Days of severe weather have taken their toll in coastal areas around Wales.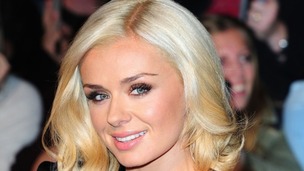 Here's a full list of those in Wales who have been named in the New Year's Honours List.
Live updates
UK government's health secretary, Jeremy Hunt, has ordered a safety audit of a north Wales poultry factory after alleged hygiene failings were uncovered at the plant.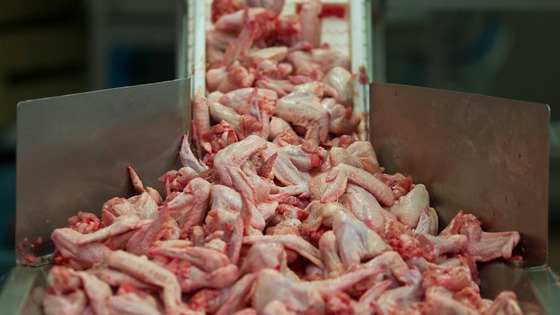 An investigation by a national newspaper found significant breaches at the 2 Sisters Food Group site at Llangefni.
The Food Standards Agency says it found no risk to public health but says the site will be audited in the next 24 hours.
The past of a former factory manager from North Wales caught up with him when he was jailed for five years for historic sex offences.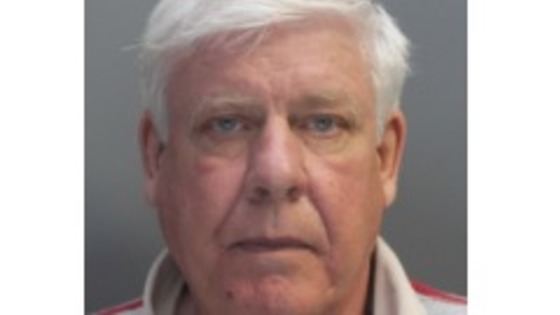 John Sullivan, 64, was aged between 18 and 23 when he molested young boys aged between six and 11 at Llangollen in North Wales.
Since then he led a respectable life, was married with three grown up sons, did charity work, and ended up being the manager responsible for 200 people in a factory.
But police knocked on his door earlier this year and he was arrested after a man, now in his 50s, disclosed to police what Sullivan had done to him as a child.
Police discovered that Sullivan, now of New Cottages in Ellesmere, on the Wales/Shropshire border, had been interested in motorcycles.
That attracted children and he would show them the machines in a garage and offered them money to perform sexual acts on him.
Today he was sentenced under legislation is force at the time – rather than today's sentencing regime which would involve far longer sentences.
John Hedgecoe, defending, said Sullivan had been brutalised himself as a child but made no excuses, knew it was wrong, and expressed genuine remorse.
He admitted eight charges of indecency with a child and indecent assault.
Advertisement
A bride-to-be had an early wedding present from her friends - a giant billboard advertising her hen party.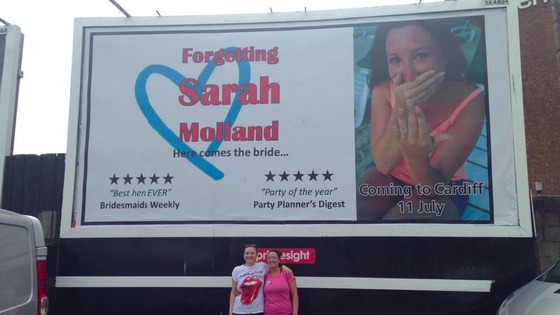 Sarah Molland, 25, was on a pub crawl with friends when she came face-to-face with the huge roadside poster.
Her pals had clubbed together to organise the £500 billboard in Cardiff city centre.
I couldn't believe my eyes - I knew I would be getting plastered on my hen night but not like that. My first thought was: "I'll kill them" - but I was delighted really. It was very funny.
– Sarah Molland, bride-to-be

The 24ft X 12ft billboard is based on the hit Russel Brand film Forgetting Sarah Marshall.

Sarah's best friend and maid of honour Rachael Coombs, 25, spent months plotting to put the poster up for the hen night for 15 girls in the Welsh capital.

All the friends were sworn to secrecy so Sarah had no idea about the poster until she saw it on her big night out.

Sarah, of Birmingham, studied at Cardiff University and returned for her hen night - even staying in student accommodation for the weekend.
Police are appealing for information after a claim that a man tried to entice two teenagers into his van at Llantwit Major in the Vale of Glamorgan.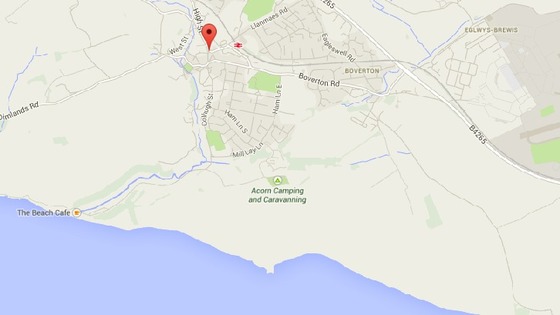 South wales police say the teenagers were playing around Colhugh Street and Rosedrew Farm on Thursday afternoon when a man tried to entice them into a white van.
The man is described as being white, around 60 years of age, of skinny build with white hair and a short white beard.
Over the course of the weekend the pollen levels are expected to remain as moderate.
However, by Monday they are likely to reduce to low as temperatures drop back to the low twenties and we expect some heavy showery outbreaks.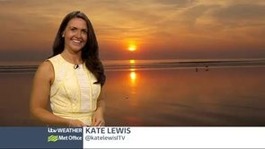 Warm and sunny throughout the country today. Maximum temperatures 27 °C. Another warm & largely clear night, cooler along the coast tomorrow
Read the full story
Advertisement
A Welsh coastal town is swooping down on seagulls.
Tenby has launched a trial of seagull proof rubbish bags to reduce street litter which it hopes will deter gulls and other animals from attacking kerbside waste.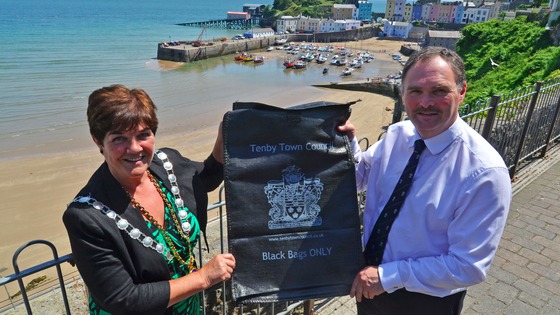 The two month trial is a joint initiative between Pembrokeshire County Council and Tenby Town Council.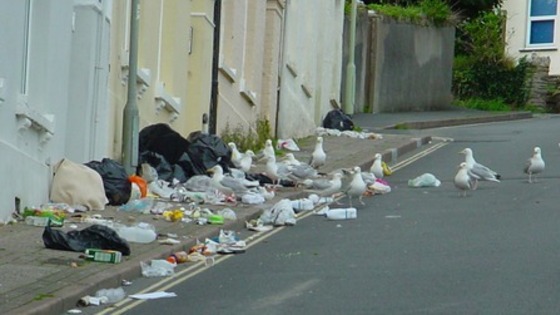 Householders in selected streets have been written to about the scheme and offered gull proof bags free of charge for the duration of the pilot.
If the trial proves successful then the bags, which are re-useable, will be made available for sale to residents who want them on a permanent basis.
Police are appealing for witness after a cyclist died following an incident in Penarth in the Vale of Glamorgan.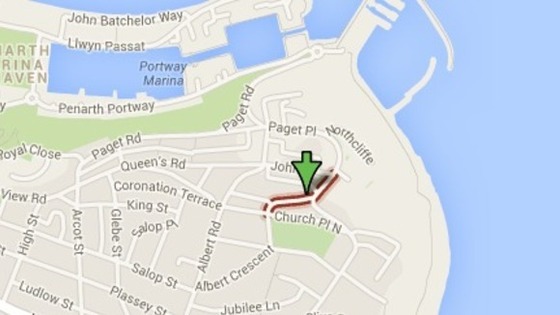 Police say the rider, Martin Trinder aged 25 from Cardiff, was cycling along St Augustines Crescent, going down a steep hill towards St Augustine Road, when he appears to have lost control and fallen, causing himself serious injuries.
Mr Trinder was taken to University Hospital Wales, and remained there until 22nd July, where he died from his injuries.
South Wales Police is asking for anyone who may have witnessed the accident, or anyone with information connected to the incident, to contact them on 101 quoting reference number 1400256228.
South Wales Police say they are attending an incident in Cardiff city centre at the Army Recruitment Centre at Southgate House near the bus station.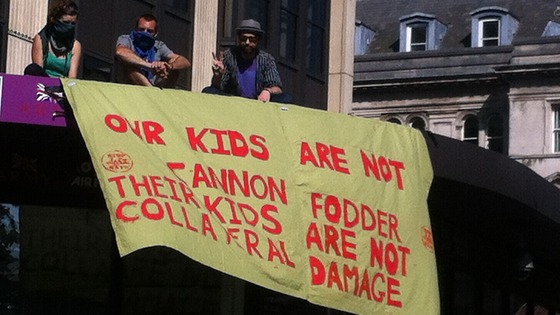 Anti-NATO action underway in Cardiff. Army recruiting centre closed. Support appreciated. http://t.co/Jgap8VZ3zS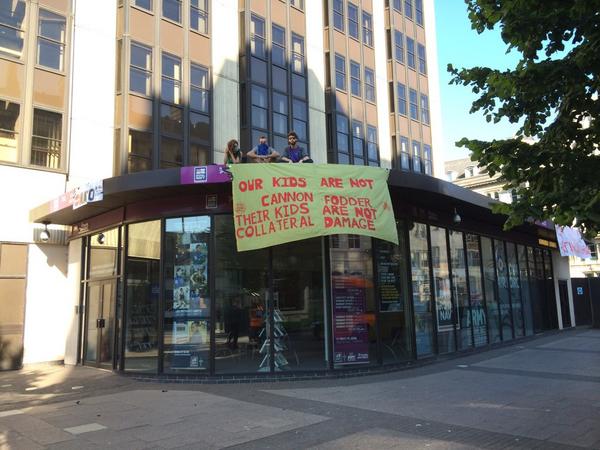 The demonstrators who call themselves Anarchists in Wales are on the roof of the centre and say they are against the upcoming NATO conference.
The NATO conference gets underway in Newport 4th of September.
The force is aware of a small on-going protest at the Army Careers premises in central Cardiff this morning.

South Wales Police acknowledges an individual's right to a peaceful protest and will work with protestors to facilitate any lawful protest while minimising disruption to the community and ensuring public safety.
– South Wales Police

The Army Office tweeted "Business as usual for this office!".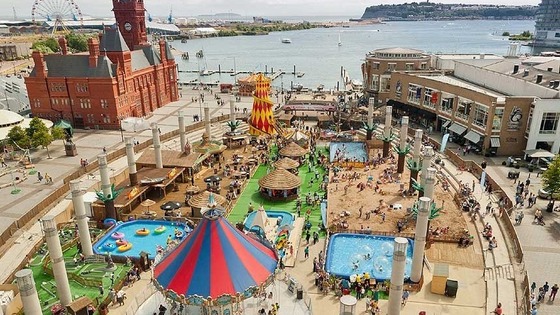 Visitors and locals in Cardiff this weekend will get a taste of the seaside as the Cardiff Bay urban beach returns for a second year.
It follows the huge success of last summer's event when a quarter of a million people visited the attraction at Roald Dahl Plas.
The event will run until August 31st.
"Urban beaches are firmly established in major European cities such as Paris, Berlin and Madrid so it's great that residents and visitors to Cardiff have another good reason to cancel this year's holiday plans and soak up the sunshine in the heart of Cardiff Bay instead."
– Cllr Peter Bradbury, Cardiff Council
Load more updates