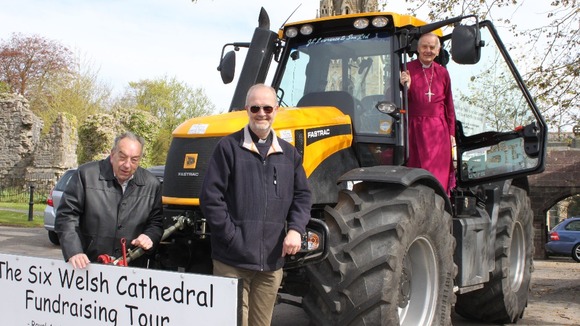 A vicar from Mid Wales is hoping to raise thousands of pounds for charity after driving a tractor to every cathedral in Wales.
Rev Richard Kirlew made the trip to raise awareness of struggling rural communities, and was encouraging donations to charities and organisations that support farmers.
His journey, which began last Monday, took in St Davids, Bangor, St Asaph, Newport and Llandaff, ending up in Brecon.
Accompanied by his wife, the couple slept in a caravan towed by the JCB. Their maximum speed was 40mph, but Rev Kirlew said fellow drivers were extremely patient on all the roads.
"We've pulled in regularly to let faster drivers pass and lorries have flashed their lights in a supportive way!" he said.
"The main aim has been to raise awareness of the problems facing rural communities in Wales – there's a perception everyone living in the countryside is rich but poverty, declining village life and isolation are real issues which are getting worse."