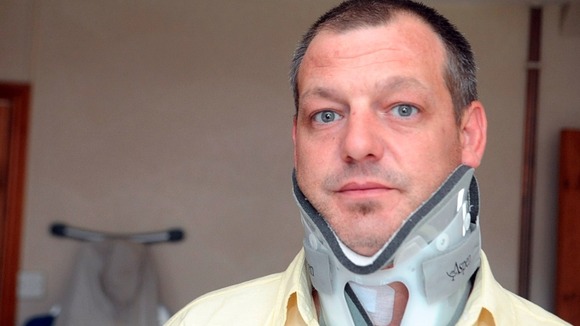 An investigation has been launched after doctors failed to recognise a man had a broken neck and instead sent him home from hospital with painkillers.
Darren Langabeer, 40, went to Glangwili General Hospital in Carmarthen after he was was allegedly assaulted in his hometown of Llanelli.
After receiving a medical scan he told by doctors he had a "trapped nerve" and sent home. But when he returned to hospital five days later with pins and needles in his arms he was taken to the spinal unit in Cardiff.
Mr Langabeer said: "The doctor told me I could have been paralysed. They said I was lucky to be walking."
The father-of-three spent a week recovering at the University Hospital of Wales in Cardiff and has been told he cannot work or drive for at least three months.
Hywel Dda Local Health Board says it's investigating why Mr Langabeer was allowed to be sent home.
A spokeswoman said: "The health board cannot comment further at this time as a full investigation is ongoing."