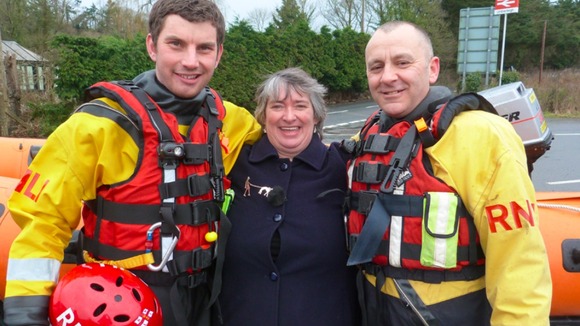 Three volunteers from the RNLI's Flood Rescue team in South Wales have been recognised for their part in rescuing a woman from flood waters in Devon.
Paul Eastment and Chris Missen, from Porthcawl, and Jason Dunlop, from Penarth, will receive special awards for helping to rescue 46-year-old Vanessa Glover, who was trapped in fast flowing flood water.
The rescue took place on 23 December at Umberleigh, in Devon. Vanessa Glover had been swept from her car after it was forced off a road by powerful flood water, leaving her husband and 7-year-old son clinging to the car roof.
Vanessa Glover thanked the team for their part in the dramatic rescue: "I want to thank you for your bravery, courage, determination, professionalism and commendable quality of character. Thank you for saving my life."
The three volunteers will receive Gallantry Medals for their help in the rescue. It's the first time that RNLI volunteers have been awarded medals for a flood rescue.