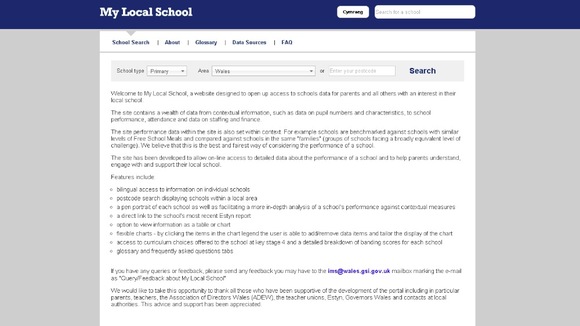 The address for the new school information site is: http://mylocalschool.wales.gov.uk/
When you get there, you will need to search by:
School type - Primary, secondary, nursery or special
Area - all of Wales, four regions within Wales, or the 22 local authorities
Postcode - or you can use your postcode
The results will show up on a map, and in a list. Click on the school you want to look at, and it will take you to a summary page, with the basic information on the school 'at a glance.' Things like the address, whether it's English or Welsh medium, and attendance rates are listed here.
You can then click on options like 'staff', 'finance' or 'attainment' for more detailed information, including charts.
There are sections on the site with Frequently Asked Questions, and a Glossary, particularly for explaining some of the terminology.