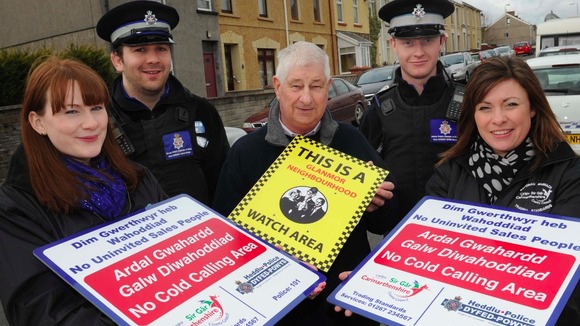 Thousands of scams and unwanted doorstep calls were reported throughout Wales in the past year says the charity Age Cymru.
It claims at least 1,000 unwanted doorstep calls were reported to Trading Standards plus more than 1,600 mail, phone and internet scams.
The charity, which campaigns on behalf of older people, said the figures were probably just the tip of the iceberg.
It's now calling on the Welsh Government to create more No Cold Calling Zones around the country.
"According to the Citizens Advice Bureau only 5% of scams are reported," said Age Cymru's campaigns co-ordinator Gerry Keighley.
"We could be looking at as many as 50,000 scams and unwanted doorstep calls in one year in Wales and in a great many cases the potential victims were older people."
Age Cymru says there is a drastic need for action as awareness campaigns are not protecting older people.
"We believe it is time the companies who deliver the scams, such as Royal Mail, phone companies and internet providers should shoulder more of the responsibility," says Mr Keighley.