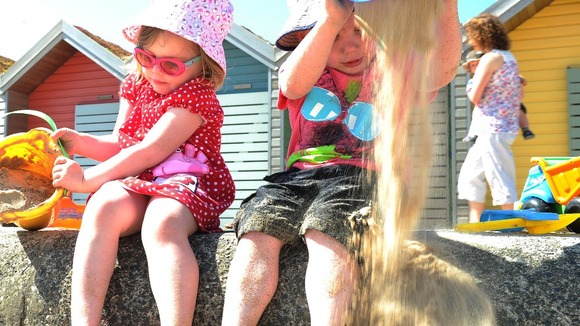 Public warnings have been issued by Wales' top medic, North Wales Police and the RNLI ahead of rising temperatures and long hours of sunshine this weekend.
Forecasters say there will be highs of 26C - where average temps for the year are between 18 - 20Cs.
Wales' Chief Medical Officer Dr Ruth Hussey says it is important that people wear sunscreen when outside and avoid staying in the sun too long.
"Don't forget to drink regularly - water or other cold soft drinks rather than tea and coffee - and stay out of the sun between 11 am and 3 pm."
Meanwhile North Wales Police have issued a warning to people not to be a " warm weather victim".
The force says people should 'be vigilant' and not leave doors and windows open and valuables on display.
"Days out to the beach or countryside can also bring about an air of complacency and so we are asking that all valuables are removed from cars or at the very least locked securely out of sight," it says in a warning.
Last year, Welsh RNLI lifeguards responded to 1,334 incidents and helped 1,426 people on some of the country's busiest beaches.
Stuart Thompson, Lifeguard Manager, said its advice was,"choose a lifeguarded beach and swim between the red and yellow flags, which is the area most closely monitored."