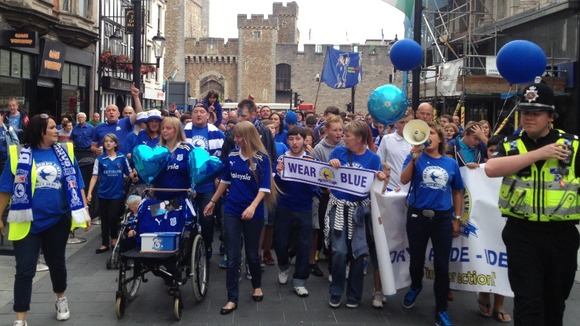 Hundreds of Cardiff City fans have been walking through the Welsh capital this afternoon calling for their strip to be returned to blue.
They chanted "We're supposed to play in blue!" ahead of Cardiff's first home Premier League match against Manchester City, which kicks off at 4:00pm.
The walk was also to celebrate 100 years of the bluebirds symbol.
The kit was controversially rebranded earlier this year with a red dragon in place of the former logo.
In a statement released at the time, Cardiff City FC said 'a fusion of identities and values' would help in British and Asian markets, adding: "The colour red is widely recognised as being synonymous with Welsh culture and heritage, with Cardiff the proud capital of the country.
"The colour also holds strong spiritual significance in Asia, where it is seen as a symbol of prosperity, power and good fortune."