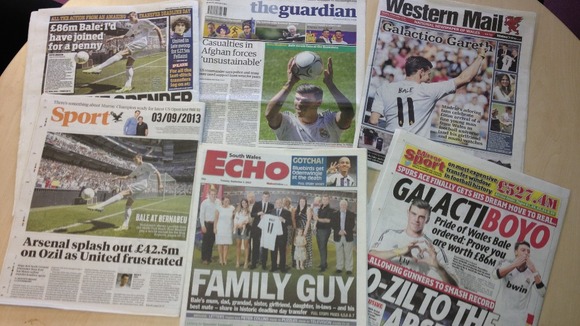 Gareth Bale's unveiling as a Real Madrid player yesterday has dominated the front and back pages of today's newspapers.
The Daily Mail - 'Gareth Bale finally became the world's most expensive footballer yesterday when he was unveiled as Real Madrid's £86m new boy - then he did his best to soothe the ego of the man whose title he has taken.
Bale was introduced to nearly 30,000 Real fans at the Bernabeu, and then described his new Real team-mate Cristiano Ronaldo as 'the best player in the world and somebody I am looking forward to learning from.''
The Guardian - 'Tottenham Hotspur's chairman, Daniel Levy, had kept him waiting, forcing Real Madrid to dismantle and then rebuild the stage upon which they planned to present him, but... the Welshman finally appeared at the Berbaneu, dressed in a skinny black suit.'
The Independent - 'In terms of player presentations Ronaldo will have seen how Bale's "opening ceremony" at the Bernabeu drew a smaller crowd than the 80,000 that turned up for his in 2009.
But he will also have noticed how Bale has been accepted instantly by Real supporters, who sang his name as he did a lap of the stadium, kicking footballs into a crowd of around 35,000.'
The Daily Mirror - 'He may have been welcomed by more fans than the crowd for a Europa League game at his old club. But drenched in sunshine, adulation and the kind of fanfare reserved for heads of state, the world's most expensive player kept a clear head here at the Bernabeu.'
South Wales Echo - 'On a monumental day for Welsh sport, Bale chose to share the biggest stage of all with mam Debbie and dad Frank, his grandad, his sister Vicky, nephew and niece, his childhood sweetheart Emma and their daughter Alba Violet.
Immediately ingratiating himself with the Spanish public and media, the 24 year-old gave a short message in his new tongue.'
Western Mail - 'Overjoyed Spanish football fans gave Gareth Bale a rousing reception reception in the Bernabeu Stadium yesterday after the Cardiff-born Galactico told them: "Ola! Me gusta mucho Madrid."
The softly-spoken Welshman 24 years old was flanked by his family as he was finally unveiled on football's biggest stage as Real Madrid's new star after months of anticipation.'