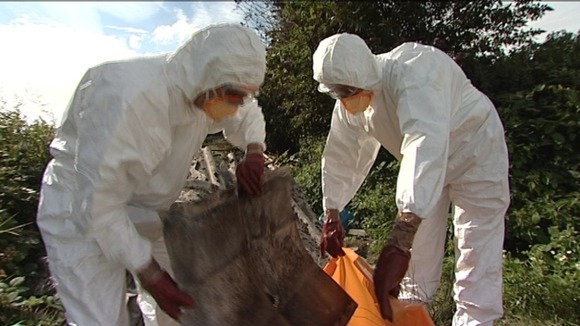 Councils spend millions of pounds cleaning up illegally-dumped waste, but the cost to the environment can be even more alarming. Now, enforcement officers are closing in on fly tippers, using the latest technology and sharing intelligence to catch them in the act.
At this site on the roadside in the Wentloog levels, between Cardiff and Newport. There is plenty of evidence of illegal tipping.
Tonnes of asbestos sheets have been dumped in the area for the twentieth time in the last 14 months.
"if it breaks down, the spores start travelling round in the air, and that can be dangerous for public health... the people who are disposing of this are probably not dealing with it correctly themselves either, so they're quite likely to be at risk of all sorts of diseases"
Raynor Lewis, Intelligence Officer, Natural Resources Wales
Fly tipping can lead to a prison sentence or a maximum fine of £50,000, but last year there were just 106 prosecutions in Wales.
Tonight, Wales This Week is out with the enforcement officers, who are tracking down these illegal fly tippers.
Watch Wales This Week, 'Grot on the Landscape' tonight at 8 on ITV Cymru Wales