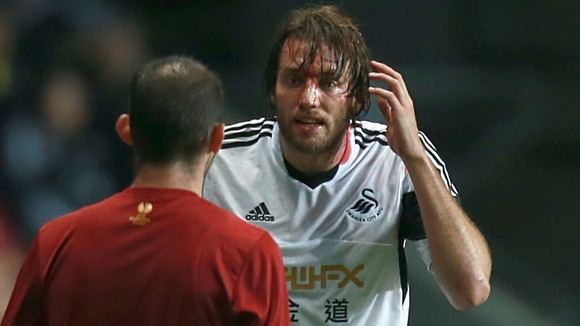 Swansea's Spanish star Michu was still centre of attention, despite not getting on the scoresheet against St Gallen, after suffering a cut to his head and requiring five shirts during last night's match.
At half-time a member of Swansea's staff was sent to the club shop to retrieve a shirt with his name and number on the back.
It all started when Michu ducked into the boot of St Gallen's Stephane Besle, a challenge which could have given Swansea a penalty.
Michu got to his feet with blood streaming from a cut, and efforts to stem the flow with a bandage failed.
Vaseline was eventually smeared in his hair, but the forward was prevented from returning to the field as blood seeped onto his changed shirt, before a clean numberless jersey was found.
Swansea were down to 10 men for more than eight minutes while this was all happening on the far touchline.
Wearing a new shirt from the club shop in the second half, that too good blood on it, and a fifth and final shirt was found.
Michael Laudrup said: "We did not know how bad it was, because he was on the other side of the field. But it shows he just wants to play, he is very important for the other players when he is in there. He had some stitches at half-time. I don't know how many."
When asked about the dash to the club shop for a new shirt, Laudrup joked: "Wasn't it closed?"