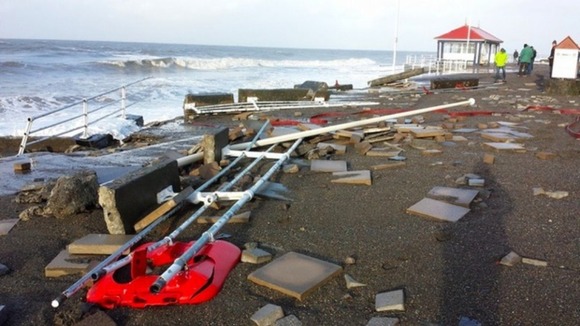 The Natural Resources Minister, Alun Davies AM, has asked Natural Resources Wales to carry out a "swift review" of damage to coastal flood defences and impact to coastal communities following this week's storms.
The Minister was in Aberystwyth, one of the worst affected areas, today to meet with the local authority and community representatives to discuss the impact of the storm and the clean up operation.
"Friday saw the worst storms to have affected the Welsh coastline for 15 years," he said.
"My thoughts are with those affected and who have had a very difficult start to the New Year.
"I would like to thank Natural Resources Wales, Local Authorities, the Fire and Rescue Services, the Police, RNLI and other agencies for their efforts in evacuating those at risk and in undertaking the clean up operation.
"It is impossible to totally prevent flooding but we are working to build resilience around our coasts in Wales.
"Our coastal flood defences have been severely tested by these storms and it is vital to look at how our sea defences have managed to stand up to the power of the recent storms.
"That is why I have asked Natural Resources Wales to carry out this swift review with the immediate priority being to identify and assess any damage caused so that we can prioritise repair work and see what lessons we can learn to be well prepared for future severe weather.
"There is further stormy weather forecast for the days ahead so I urge people to follow the advice of the emergency services and Natural Resources Wales and stay away from the coast.
"I will be making a statement setting out more details later this week."