The Welsh Government is today due to publish the findings of its urgent inquiry into claims thousands of GCSE pupils in Wales got unexpectedly low grades in new English language papers they sat in January.
After dozens of headteachers complained of shock low results at the beginning of the month, Education Minister Huw Lewis launched a "rapid fact-finding exercise... to understand what are the key issues underlying the results."
Watch: Urgent investigation into shock GCSE exam results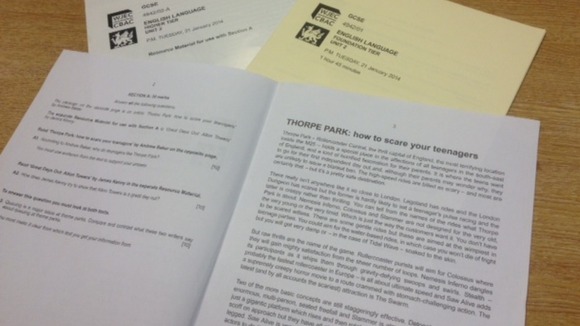 22,516 pupils sat at least one unit of their English language GCSE in January.
The exams were the first to be sat under a new, more rigorous, English language qualification for Wales only, after a row over the regrade of papers in 2012.
Figures from exam board WJEC show 48 out of 292 centres (16.4 per cent) entering pupils in January saw an average fall of more than one grade compared to last year.
For Unit 1, at Foundation Tier, the proportion of pupils awarded a C grade fell from 23 per cent to 5 per cent.
WJEC held its own review of marking, but said that - aside from one inconsistent examiner - the vast majority of papers were marked "correctly and accurately in line with the mark scheme".