A long-standing Welsh Liberal Democrat says she's 'lending' her support to Plaid Cymru in the forthcoming European election because she believes her party's candidate doesn't have a realistic chance of winning.
Polls suggest that the Lib Dems are unlikely to win a seat in the European Parliament but also that Plaid is at risk of losing its seat. That's why Plaid leader Leanne Wood has urged Lib Dem voters to back her party in the vote on May 22nd.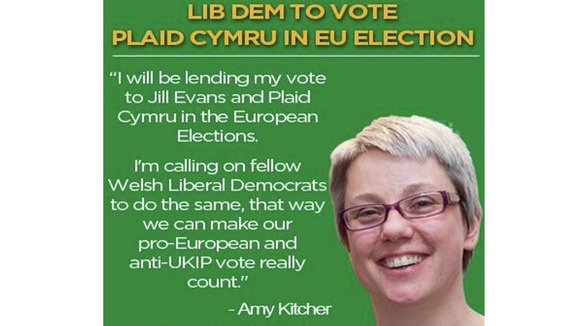 Amy Kitcher, who has been a Parliamentary and Assembly candidate for the Liberal Democrats as well as a councillor in Merthyr says she's reluctantly accepted that her party is unlikely to be able to send a Welsh MEP to Brussels. She added:
"After much consideration, I've concluded that the Welsh Liberal Democrats and Plaid Cymru have two important things in common: we want the best for Wales.This was clearly demonstrated when the parties cooperated over the recent Welsh Assembly budget.
"That is not a reflection on him personally, rather of the wider political climate we find ourselves in. However, it's not too late to make my vote count. What's more, both parties champion the benefits of EU membership to Wales.
"Rather than voting for my own party, however much I might hope they do well, I have decided to lend my vote to Plaid Cymru in the European Elections. I'm calling on fellow Welsh Liberal Democrats to do the same, that way we can make our pro-European and anti-UKIP vote really count." - Amy Kitcher