Two Welsh survivors of the Tunisia beach massacre have thanked everyone for their support.
Mathew James and Saera Wilson have also said that it would be "disrespectful to be talking openly about how lucky we are, when other families have lost so much."
We both feel its inappropriate to speak to the media about our ordeal until all of the British victims have been formally identified and repatriated back to the UK. We think it would be disrespectful to be talking openly about how lucky we are, when other families have lost so much.
– Mathew James and Saera Wilson
Mathew is expected to be hospital for a further two weeks.
A Welsh tourist who was shot three times during a terrorist attack on a Tunisian beach has been nominated for a Life Saving Medal by St. John Cymru – Wales.
Matthew James, 30, a gas engineer from Trehafod, near Pontypridd, used his body as a human shield to save his fiancée, Sarah Wilson .
Matthew, who is now back in Wales in hospital in Cardiff was hit in the shoulder, chest and hip.
St John Cymru – Wales has announced that they are nominating Mr James for a Life Saving Medal for his act of bravery.
St. John has a number of Awards that recognise outstanding bravery, and from what has been reported, Mr James's actions certainly warrant recognition. We will be asking our Honours and Awards Committee to nominate Mr James for consideration of the Order's Life Saving Medal for his actions
– Keith Dunn, Chief Executive of St John Cymru Wales
Advertisement
Many Welsh holiday makers have come back early from the resorts in Tunisia, but some have stayed on, determined that the terror attack won't drive them out.
ITV News Correspondent Richard Gaisford has been speaking to Ron Boden from Abertillery, who was on the beach as the attack took place.
Prime Minister David Cameron has confirmed that there will be a national minute of silence on Friday at 12noon to remember the victims of the terror attack in Tunisia.
She was meant to be back in work tomorrow, and we were all expecting her to be back. I am speaking to the residents and the staff and they're all in shock.

She had a joke for everyone, she had a smile for everyone, she had time for everyone. It is a great loss to us. It's not a work colleague we have lost, it's a family member.
– Shawkat Khan, Care home manager
Prayers will be said in her memory this afternoon.
Security patrols have been increased in the Tunisian resort ahead of Home Secretary Theresa May's visit today.
Good Morning Britain's Chief Correspondent Richard Gaisford tweeted pictures of security personnel on quad bikes patrolling the coast where Friday's attack took place.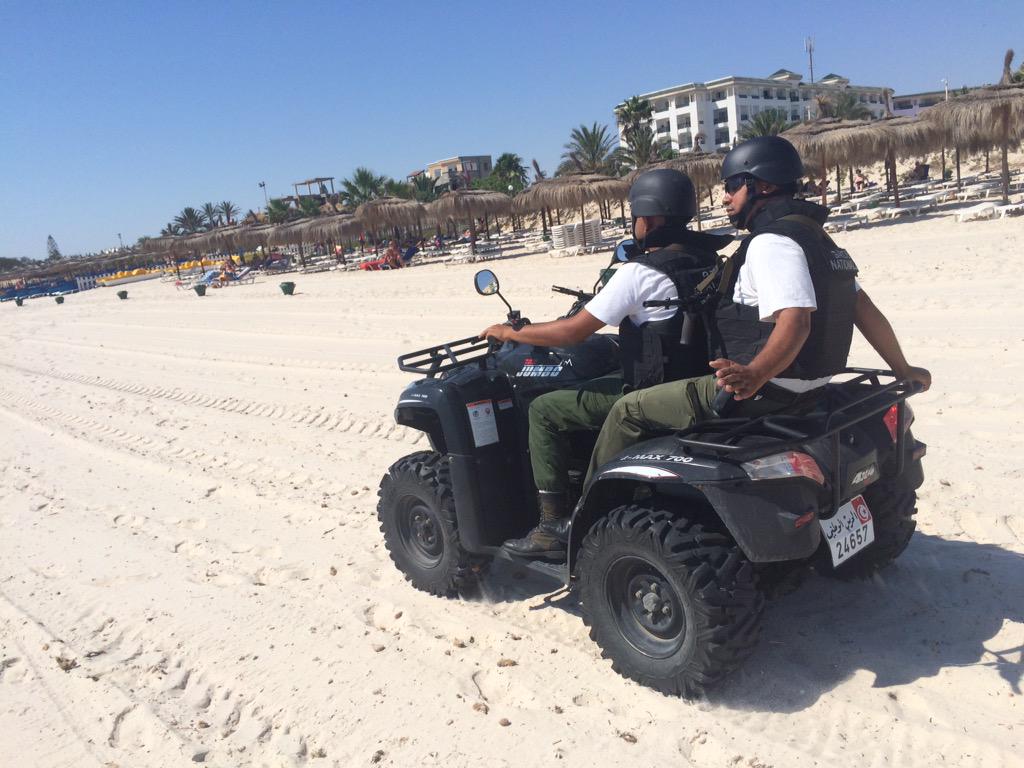 Advertisement
The family of a woman from Blackwood killed in the terror attacks in Tunisia last week have paid tribute to a caring person, who was always willing to help others.
Although formal identification has yet to take place, it's believed 51-year-old Trudy Joneswas among the 38 people who died following the attack by gunman Seifeddine Rezgui on Friday.
Ms Jones family have released the following through their family liaison officer:
"Our mother of all people didn't deserve this, such a caring person who put everyone else before herself. Always willing to help others, she loved everyone around her including all of the people she cared for at work. She'll be missed by so many people. She was the rock of our family and kept us all going. None of us have a clue how we're going to cope without her. We are all devastated and would appreciate if everyone can respect our privacy. Please leave us grieve our beautiful mother".
– Trudy Jones' family
Elsewhere Matthew James, a 30-year-old man from Trehafod, has returned home and is recovering in hospital after being shot three times whilst trying to protect his girlfriend from the gunman.
A woman has described how she helped a Welsh couple caught up in the Tunisia terror attack.
Mathew James is now recovering in hospital in Wales after being shot three times while protecting his fiancee Sarae Wilson from the gunman.
Olivia Leathley, 24 and from Cheshire, told ITV News that she saw Saera in the hotel lobby "in hysterics" after he had been shot, lent her a phone to ring her family, and helped her communicate with hotel staff as she tried to find Mathew again.
Trudy Jones from Blackwood was among 38 people killed in the terror attack in Tunisia. Her family say they are 'devastated' at her death.
Read the full story ›
A local councillor has spoken of how the death of a grandmother from his community in Blackwood has brought the dangers of terrorism around the world shockingly close to home.
Care home worker Trudy Jones, 52, was killed in the terror attack in Tunisia on Friday.
Cllr Nigel Dix told our Valleys Correspondent Hannah Thomas: "I never dreamed it would be someone in my area that could have been a victim of an attack."
"It just goes to show, you can go away on holiday, it's supposed to be a happy time - but the situation with terrorism around the world - it can be anywhere."
"It has brought home to everyone really how the situation is in the world today with terrorism - that it can affect communities in Wales."
Load more updates