The town of Blackwood has paid tribute to the victims of the Tunisia attack with a minute's silence.
Among those killed was Trudy Jones, from the town.
School children, councillors, friends and the community of Blackwood are together to remember Trudy Jones http://t.co/rxEuiVLhKe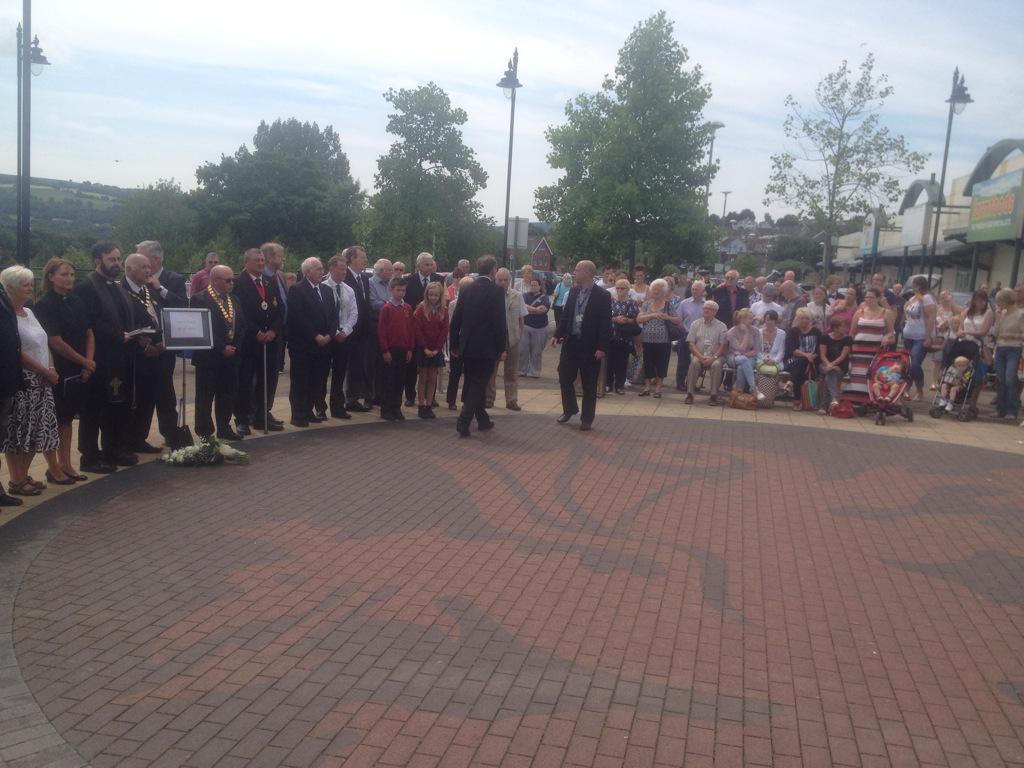 A national minute of silence will be held at 12pm today to remember the victims of the terror attack in Tunisia.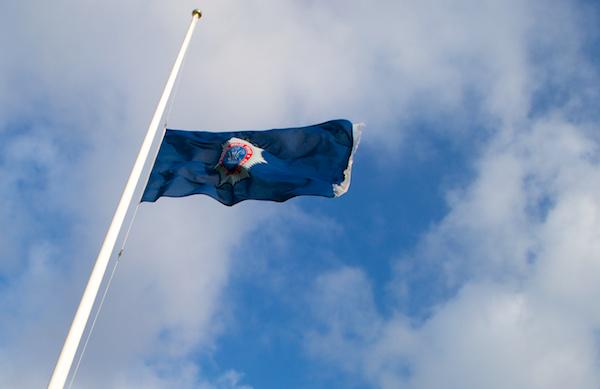 Advertisement
The body of Blackwood grandmother Trudy Jones has been repatriated to the UK, along with eight other victims of the Tunisian beach massacre.
Read the full story ›
Two people were rescued by lifeguards this morning after they were caught in a rip tide off Newgale Beach.
The child was bodyboarding off Newgale North beach when she got caught in a rip current at around 11.30am today. The man spotted the girl in trouble and swam out to help her but was also caught in the rip tide.
Two lifeguards grabbed rescue boards and paddled out to save them. The pair were brought back to the beach and assessed but found "thankfully unharmed" according to the RNLI.
It has prompted warnings from the lifesaving charity who say they have rescued six body boarders in waters off Pembrokeshire this week.
If you're heading to the coast this weekend please remember to respect the water and swim at a lifeguarded beach. If you spot someone in trouble please don't attempt the rescue yourself – either tell a lifeguard or phone 999 and ask for the Coastguard.
– Stuart Penfold, RNLI Lifeguard Supervisor
RNLI lifeguards provide a daily safety service on both Newgale North and South beach from 10am-6pm throughout the summer season.
The bodies of nine British victims of the Tunisian beach massacre were this afternoon being flown home, as the final UK death toll was confirmed at 30.
Among the dead being flown into Brize Norton air base in Oxfordshire will be Trudy Jones from Blackwood.
Eight Britons killed in the terror attack were brought back to British soil on Wednesday, further flights are expected tomorrow and Saturday.
British nationals made up the majority of the 38 killed by gunman Seifeddine Rezgui when he opened fire on holidaymakers on a beach in the resort of Sousse on Friday - along with three Irish nationals, two Germans, one Belgian, one Portuguese and one Russian.
Police are appealing for help to trace a 16-year-old from Dyserth in Denbighshire.
Olivia Sage was last seen at 9.30pm on Wednesday July 1 in the Colwyn Bay area.
She is described as around 5ft 10ins tall with long dark hair and was wearing white jeans and a blue shirt.
Anyone with information should contact the police on 101.
Advertisement
Gwent Police have evacuated 30 homes in Newport this morning following the discovery of a suspicious package.
Officers did so as a safety precaution after the discovery of the package at a property in Graig Park Villas.
A 50 metre cordon has been put in place and the bomb disposal unit has been called. Officers are currently assessing the package.
A nearby primary school Tweeted parents to say the police had told them there was no threat to pupils.
Mrs James has contacted the local police and has been reassured that the incident in Graig Park is of NO threat to the children.
A dedicated phone line has been set up to support victims and relatives of the Tunisian terror attacks.
Set up by the Welsh Government, the Wales Tunisian Support Line will provide a "confidential listening and emotional support service" for Welsh citizens returning from Tunisia - or for friends or relatives caught up in last week's events in Sousse.
The world has been united in its shock at the horrendous attack in Tunisia. It is our duty to make sure we are ready to offer any assistance we can as we deal with the aftermath of this tragedy.
– Mark Drakeford, Health and Social Services Minister
The number - Freephone: 0800 107 0900 or text 'help' to 81066 - will be manned by trained staff and will be available 24-hours a day for the foreseeable future.
Two Welsh survivors of the Tunisia beach massacre have thanked everyone for their support.
Mathew James and Saera Wilson have also said that it would be "disrespectful to be talking openly about how lucky we are, when other families have lost so much."
We both feel its inappropriate to speak to the media about our ordeal until all of the British victims have been formally identified and repatriated back to the UK. We think it would be disrespectful to be talking openly about how lucky we are, when other families have lost so much.
– Mathew James and Saera Wilson
Mathew is expected to be hospital for a further two weeks.
A Welsh tourist who was shot three times during a terrorist attack on a Tunisian beach has been nominated for a Life Saving Medal by St. John Cymru – Wales.
Matthew James, 30, a gas engineer from Trehafod, near Pontypridd, used his body as a human shield to save his fiancée, Sarah Wilson .
Matthew, who is now back in Wales in hospital in Cardiff was hit in the shoulder, chest and hip.
St John Cymru – Wales has announced that they are nominating Mr James for a Life Saving Medal for his act of bravery.
St. John has a number of Awards that recognise outstanding bravery, and from what has been reported, Mr James's actions certainly warrant recognition. We will be asking our Honours and Awards Committee to nominate Mr James for consideration of the Order's Life Saving Medal for his actions
– Keith Dunn, Chief Executive of St John Cymru Wales
Load more updates