A teenager from Cardiff has been charged with terror offences, South Wales Police said.
The 19-year-old has been charged with assisting with the preparation of an act of terror and with offences relating to the support of banned organisations.
He was arrested last week by the North East Counter Terrorism Unit and the Wales Extremism Counter Terror Unit.
He has been remanded in custody to appear at Westminster Magistrates' Court.
Chinese tourists are being invited to come up with new Mandarin names for some of Wales' famous places, foods and events.
Its popular in China to give nicknames to different celebrities and attractions, and the idea is part of a UK-wide campaign to encourage more tourists.
China is the world's largest travel market - but currently only 5,000 Chinese visitors come to Wales every year.
Tom Sheldrick reports:
This report contains footage from the Visit Britain campaign video
Advertisement
Four men who were arrested yesterday morning on suspicion of terror offences have been released on police bail.
A fifth man remains in police custody.
Wales Extremism and Counter Terrorism Unit says the investigation 'does not concern any immediate threat to public safety' and is ongoing.
As a result of yesterday's activity, members of the community have come forward and provided information to police. We would like to thank those who have assisted us and would appeal to others with any information they consider relevant to get in touch.
– Wales Extremism and Counter Terrorism Unit
Officers have been seen removing items from a house in Barry after five men were arrested on suspicion of terror offences.
Forensic officers are taking things from house on Colcot street as counter terrorism investigation leads to 5 arrests http://t.co/3DiJs3L8DV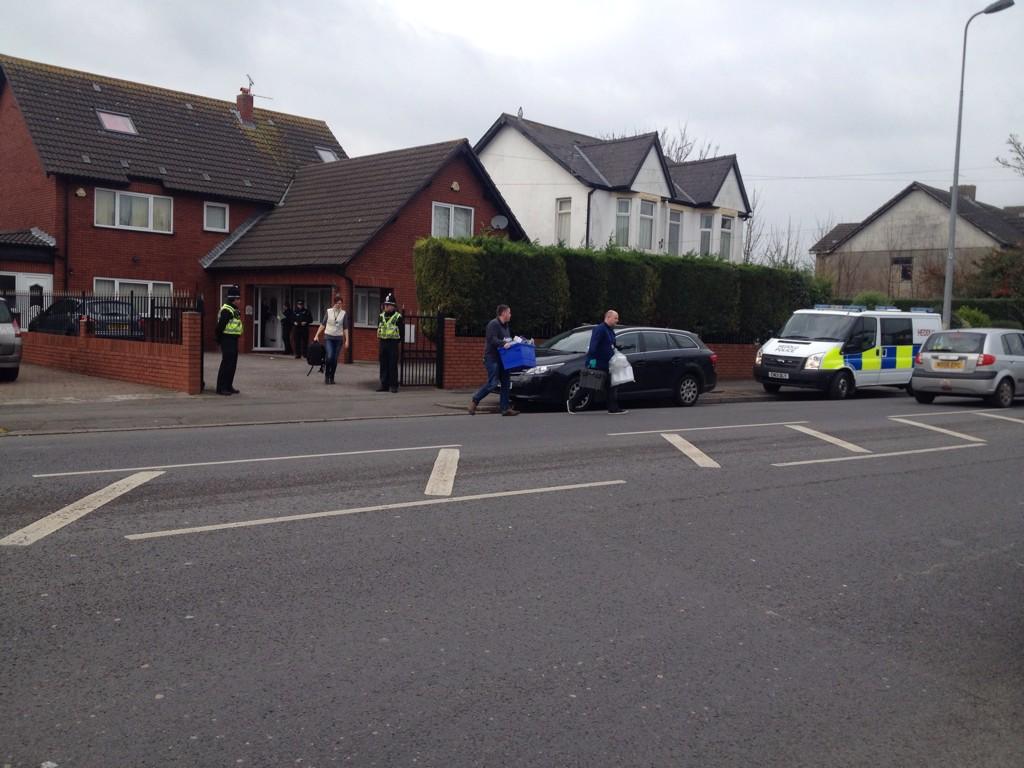 The arrests were carried out by the North East counter terrorism unit assisted by the Wales extremism and counter terrorism unit as part of an ongoing investigation.
South Wales Police said the group were arrested in relation to the support of banned organisations.
South Wales Police say officers from the North East Counter Terrorism Unit and the Wales Extremism and Counter Terrorism Unit have executed six warrants at addresses in Cardiff and Barry.
Five men have been arrested under Section 12 of the Terrorism Act in relation to the support of banned organisations.
The arrests are part of an ongoing investigation.
South Wales Police is proud to have strong links with our local communities and their cooperation is vital to make sure that we tackle radicalisation and extremism effectively together. I recognise the recent media coverage has raised very real concerns but I would like to thank and reassure the public that the links we have with our various religious communities remain strong and constructive.

Following on from Counter Terrorism Awareness Week last week, which encouraged the public and businesses to be vigilant; I would like to ask once again for your co-operation and ask that you contact us if you know or suspect something. We will deal with information passed to us carefully and respond sensitively and proportionately.
– Nikki Holland, South Wales Police Assistant Chief Constable
Police are searching two addresses in north Wales as part of an anti-terror investigation.
It follows the arrests of five men in the Dover and London in the last few days.
Officers have been given more time to question all five suspects. They are being held on suspicion of being concerned in the commission, preparation or instigation of acts of terrorism.
Advertisement
Ten years on from the 2004 Boxing Day Tsunami, Wales This Week meets Welsh survivors of one of the deadliest natural disasters in history.
Read the full story ›
On Sunday 26th December 2004, an undersea earthquake triggered a series of devastating tsunamis across the Indian Ocean. Waves up to 30 metres high struck 14 countries and killed 230,000 people. It was claimed to be one of the deadliest natural disasters in history.
The Rawlings family from Llanelli were holidaying in Phuket, Thailand when the Tsunami hit.
They had decided to spend Boxing Day morning on a boat trip to Phi Phi Island; a decision which, they believed, saved their lives. Half of the family had wanted to make the trip on Christmas Day but, Mike Rawlings had disagreed, wanting to spend Christmas Day on the beach in Phuket. If Mike hadn't gotten his way things could have turned out very differently, as the beach where they would have spent Boxing Day - had they not been on the boat - was left totally devastated.
But, this was not the only dash of fate that was on their side. At 06:45, just hours before the waves hit, the Rawlings family had arrived at the harbour ready to depart on a convoy of boats at 07:30. What happened next left Mike annoyed but, it also saved their lives.
There were three boats there. One had gone and we thought well, we are definitely on the next one, so they called us up and we got up with your beach bags and everything and they turned us back and we were not very happy about that. The next thing then, they said no, no, you are on the next boat, well we said we were here before these people so why are we on the next boat? We were quite keen to go on that boat. No no, you are with this tour agency you will go, all the boats were the same, but you are with this company, you go on that boat. Lucky we did, because the other two boats didn't return.
– Mike Rawlings
The two boats full of tourists that had gone before them were already enjoying themselves on the beach. But the boat that the Rawlings were on had stopped short of arriving at Phi Phi island, as the sea had begun to recede.
You could hear this sucking noise like pulling a plug out and the water was receding back and we just, the boat went sideways because obviously we weren't floating anymore, we went sideways, the propellers were running and they stopped the propellers just in time before they damaged on the rocks.
– Ann Perry
The Thai crew piloting the boat told the Rawlings family to jump out and walk the rest of the way to the beach. Mike and Ann tried to explain to the crew that their mother was elderly and that Mike had a bad hip, so they were unable to jump out and walk, especially over rocks and mud. But as they were doing this, they were suddenly hit by a wall of water.
We could hear a rush of water, people were shouting and screaming. Look look look and we all saw different things. I know on the way in, I remember seeing this lady in a canoe, a kayak and her daughter and son and they were enjoying, there were people snorkelling, it was fantastic. These two little children, waving to me from their kayaks and once the water went, they went and everything was confusion and it was a bit disorientated as the water came in we just went flying up into the air.
– Ann Perry
As the waves hit, the boat the Rawlings were in collided with several other boats in the bay. But extraordinarily the Rawlings were left unharmed, and managed to make their way back to Phuket with just one hole in the side of their boat. Unable to book an earlier flight home, the Rawlings were forced to continue their holiday until after the New Year, when they were finally able to fly back to the UK.
They say their lives will never be the same again. Each Boxing Day they are reminded of their narrow escape and say that everywhere they go, they continuously look for an escape route.
It changed our lives mind, it did change us. We were in shock for 2 to 3 years afterwards and then we came around a little bit and it is frightening. When we go to a beach now we always look around.
– Mike Rawlings
Steve and Mai Massingham were also on holiday in Phuket, Thailand, with their two daughters Jennie and Mel. They were in their hotel room when the wave hit.
They say if it were any other morning they would have been killed, because every other day of the holiday they had slept in late. But after a late night on Christmas eve they had gone to bed early on Christmas day, waking up first thing on Boxing day morning.
The rest of the holiday, every single morning, we hadn't woken up until about ten o'clock. We managed to miss the hotel breakfast every morning but we woke up early on Boxing Day. So I say that was fortunate because the Tsunami happened just after 9 am, and we woke up before the Tsunami.
– Steve Massingham
It was their eldest daughter Jennie who first alerted them that something was wrong.
You just couldn't see the sea anywhere because the sea obviously goes out before it comes in and there was no sea. And I told Dad and he was like yeah whatever, carrying on with his day. And then I had a look again and there was a jet ski coming towards the window along with the sea.
– Jennie Massingham
The Massinghams were in a hotel room which spanned two floors. Whilst Mai was in the bath upstairs, Steve went to the lower level to check on the girls, who were playing with their Christmas presents. Then, Steve says, the waves crashed through their balcony door.
All the water just came rushing through the room. The door to the hotel room as that came off with the water hitting it, it must have hit me.
– Steve Massingham
The Massinghams survived the Tsunami after clambering up onto the hotel roof where they saw many other guests do the same.
I can't sleep. Everytime I close my eyes I see pictures, I see the tsunami, I see that woman, you know the woman. She would look at me and I would always see the eyes looking at me and we can't help. It looks like she is there all the time. Every time you close your eyes and you think if the water comes in where am I going to go? Yeah, because we live near the sea. I think a lot, I think about water all the time.
– Mai Massingham
The family say it's been hard to get over. Mai sought the help of a psychologist to talk through her experiences, and her daughters say it's still raw. On Boxing Day last year, Mai broke down in tears as the memories came back to her. Mai says they are all fearful of water and even driving over the Severn bridge can be a trigger. The girls, who were 8-years-old and 5-years-old at the time, say they don't like visiting the beach and wouldn't dare go in the sea.
Mari Waddington was also holidaying in Phuket, Thailand, with her partner at the time.
It was planned as a two week trip away, starting in Phuket for the first night and then heading out to the Thai islands. They were supposed to arrive in Phuket on Christmas Eve, but a delay to their flight in London meant that they arrived late evening on Christmas Day. After a long and tiring flight they went to bed as soon as they got there. The early night meant an early jetlagged start on Boxing Day, their first day in Thailand.
They rose at 7am and decided to take a stroll down to the beach to explore their new holiday surroundings. After a drink at a beach front bar, they felt they were struggling with the strength of the sun on their skin, as it had been a while since they had seen the sun. They decided to head back inland and visit a tailor's shop, which had been recommended by a friend back home.
We literally were on the beach ten minutes before the wave hit. And there was like a coastal road going up towards the main part of the road, which was the back of the hotel on the beach, and then there was a tailor shop opposite there. We went in there because my friend had said it was a nice place to get dresses and suits done so we thought we'd go and check it out...The guy didn't speak very good English at all, as you'd expect when you go away, but he started to panic, his face just went white and jumped up and down, we were like what's going on? Turned around and there were chairs and water coming through the hotel opposite.
– Mari Waddington
Since the Tsunami, Mari says she has an "irrational fear" of the wind and elements. She says she kept the Tsunami "filed away" but, ten years on, she is finally able to speak out about her terrifying ordeal.
I'm grateful, obviously it wasn't my time. You reevaluate, you realise how important people are to you, and I ended up a year later moving back to Cardiff.
– Mari Waddington
To hear more about their stories tune into Wales This Week, The Day The Wave Struck, tonight at 8pm on ITV Cymru Wales.
Sun Liu, 51, was stopped by officers at the airport as she arrived on a flight from Beijing via Amsterdam in July 2012.
Read the full story ›
Dr James Lavers is part of the first coordinated group of NHS volunteers to be deployed by the UK Government.
Read the full story ›
Load more updates