Up to sixty-five firefighters are now at the scene of a large fire at an industrial unit in Swansea. It is thought that they are pumping water from the nearby River Tawe to help tackle the blaze. The fire, believed to be at the Pure Wafer premises on Llansamlet's Enterprise Park, broke out at around 9 o clock this morning. Local residents have been told to keep their windows and doors closed. Chemicals and cylinders could be stored in the building.
Advertisement
The Woodland Trust has bought 120 acres of land to plant 90,000 native trees to create a First World War Centenary Wood in Wales
It's thanks to almost £400,000 raised by people in Wales.
A site near the Ffos Las has been outlined for the commemorative wood which is hoped will create a place for reflection.
Out of 280,000 Welsh soldiers who fought in WW1, over 40,000 were killed in the line of duty.
The Woodland Trust still needs to raise a further £100,000 to fully fund the acquisition.
The Woodland Trust had already managed to secure land to create Centenary Woods in England, Scotland and Northern Ireland. The successful purchase of this land at Ffos Las is therefore a huge milestone for the project, paying a fitting tribute to all of those who served in the First World War in each of the four nations of the UK
– Jerry Langford, Wales Director of the Woodland Trust
The 1st Queen's Dragoon Guards are being welcomed home with a homecoming parade through Swansea today.
Read the full story ›
A service has been held in Cardiff to mark the return of the Welsh Cavalry from Afghanistan.
Soldiers and their families gathered at Llandaff Cathedral to remember and give thanks to those who sacrificed their lives.
It was the third tour of a 13-year NATO operation, which saw more than 9,000 UK troops deployed.
A Cardiff teenager charged with terror offences has been named as 19-year-old Syed Choudhury.
Choudhury has been charged with assisting with the preparation of an act of terror and with offences relating to the support of banned organisations.
He's been remanded in custody by Westminster Magistrates and will appear in court on Friday 19th December.
Advertisement
A teenager from Cardiff has been charged with terror offences, South Wales Police said.
The 19-year-old has been charged with assisting with the preparation of an act of terror and with offences relating to the support of banned organisations.
He was arrested last week by the North East Counter Terrorism Unit and the Wales Extremism Counter Terror Unit.
He has been remanded in custody to appear at Westminster Magistrates' Court.
Chinese tourists are being invited to come up with new Mandarin names for some of Wales' famous places, foods and events.
Its popular in China to give nicknames to different celebrities and attractions, and the idea is part of a UK-wide campaign to encourage more tourists.
China is the world's largest travel market - but currently only 5,000 Chinese visitors come to Wales every year.
Tom Sheldrick reports:
This report contains footage from the Visit Britain campaign video
Four men who were arrested yesterday morning on suspicion of terror offences have been released on police bail.
A fifth man remains in police custody.
Wales Extremism and Counter Terrorism Unit says the investigation 'does not concern any immediate threat to public safety' and is ongoing.
As a result of yesterday's activity, members of the community have come forward and provided information to police. We would like to thank those who have assisted us and would appeal to others with any information they consider relevant to get in touch.
– Wales Extremism and Counter Terrorism Unit
Officers have been seen removing items from a house in Barry after five men were arrested on suspicion of terror offences.
Forensic officers are taking things from house on Colcot street as counter terrorism investigation leads to 5 arrests http://t.co/3DiJs3L8DV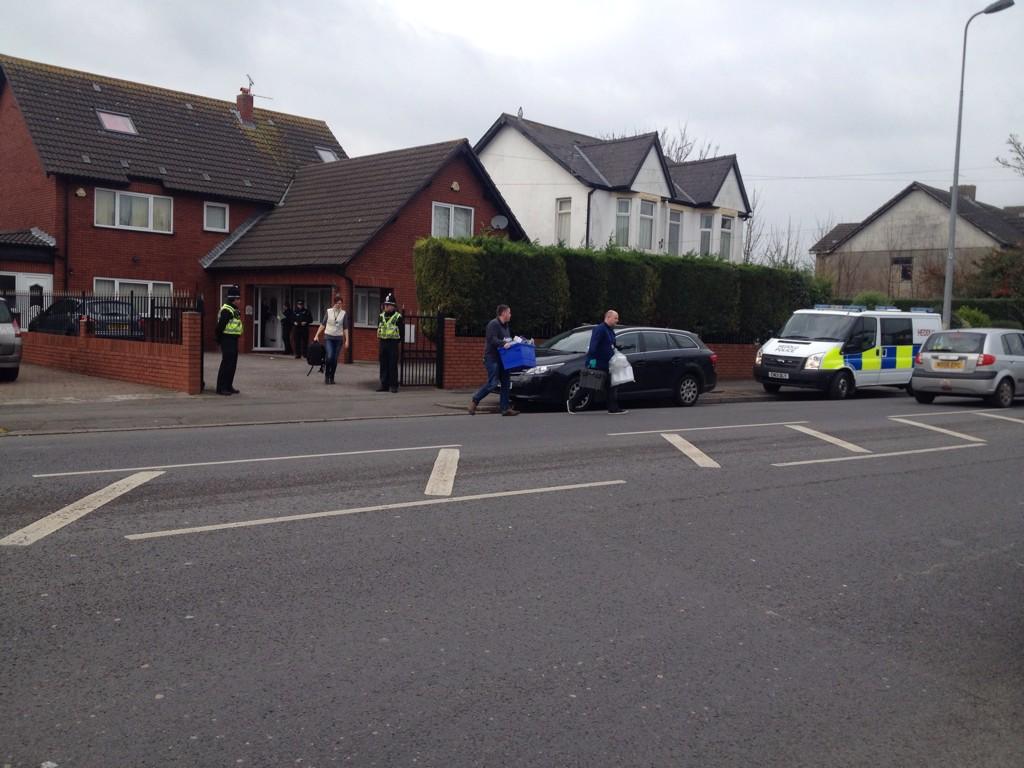 The arrests were carried out by the North East counter terrorism unit assisted by the Wales extremism and counter terrorism unit as part of an ongoing investigation.
South Wales Police said the group were arrested in relation to the support of banned organisations.
Load more updates