The winds will remain strong tonight and in the north showers will continue, which may turn wintry over high ground.
Read the full story ›
High winds have continued to wreak havoc across the country as fallen trees blocked railway lines, and busy road-bridge routes had to be closed, including the Dartford Crossing QEII Bridge on the M25, the Ouse Bridge on the M62, and the M48 Severn Bridge.
Trains had to run at reduced speed in north west England, with delays of up to an hour in the Warrington Bank. Quay/Oxenholme Lake District area and in the Carnforth area. A tree on the line led to delays between Exeter St Davids in Devon and Taunton in Somerset, while another fallen tree meant hold-ups between Salisbury in Wiltshire and Romsey in Hampshire.
A tree on the line also caused delays to trains between Aylesbury and London. In East Anglia, overhead wire problems between Diss and Stowmarket were causing delays of up to an hour to services between Norwich and Ipswich. To add to commuters' problems, a signalling problem led to delays to trains between Brighton and Haywards Heath in Sussex.
Advertisement
The winds will remain strong tonight and in the north showers will continue, which may turn wintry over high ground.
Read the full story ›
West Midlands Ambulance Service has confirmed a man has been seriously injured after a tree landed on the car he was driving in Birmingham.
A West Midlands Ambulance Service spokesman said: "The driver who had numerous injuries including a head injury was trapped in his car. With the help of the fire service, he was freed, placed on a scoop stretcher and, accompanied by the trauma team from the air ambulance, he was taken by land ambulance on blue lights to the major trauma centre at the nearby Queen Elizabeth Hospital Birmingham."
A passing ambulance stopped and its crew began to give help moments after it happened in Shenley Fields Road in Selly Oak shortly before 1.40pm.
The Humber Bridge has been closed completely after a lorry overturned in high winds. Police had earlier closed the bridge to high-sided vehicles.
*** HUMBER BRIDGE CLOSED IN BOTH DIRECTIONS *** please avoid the area and make alternative routes #312 http://t.co/OyMUP3xCnG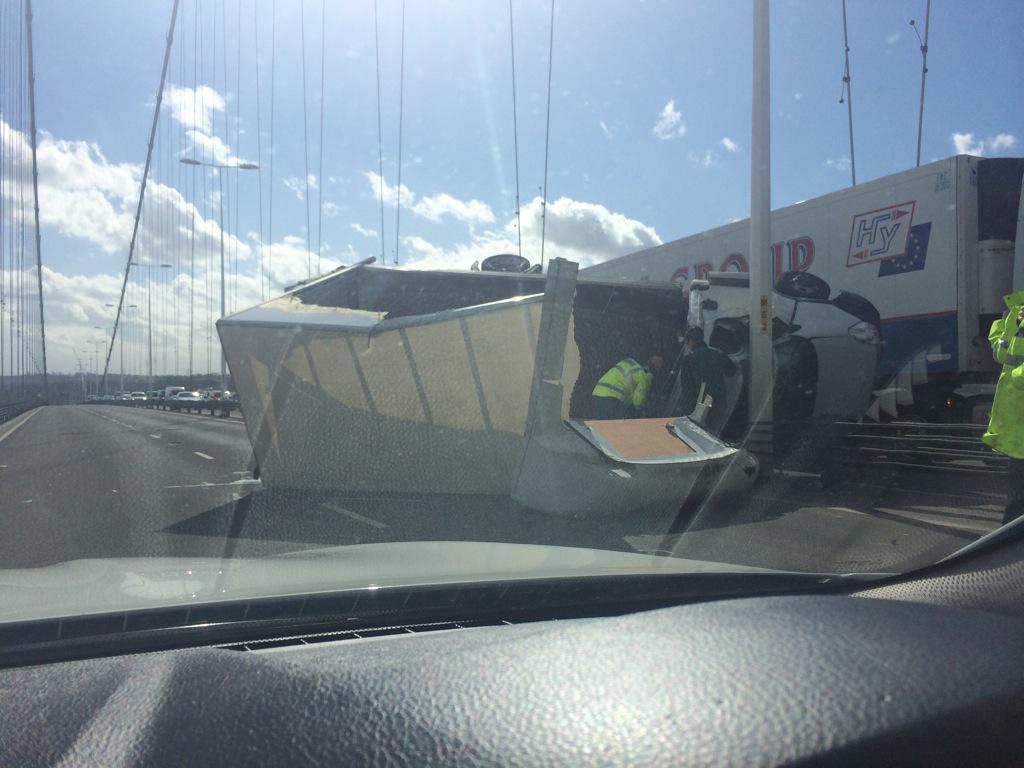 Humberside Police's road traffic unit later posted: "Very windy on the bridge! But recovery well under way". Drivers in the area reported widespread congestion caused by the closure, which was put in place after the lorry overturned close to one of the bridge's 150-metre high support towers.
Statistics show month of March to be sunnier than average despite a very windy and wintry period of weather in last 24 hours.
Read the full story ›
Advertisement
Today there's a mixture of weather around, but it's the wind that has got everyone's attention after a night of howling gales.
Read the full story ›
A couple had a lucky escape after strong winds sent a 20ft tree crashing onto their home in the middle of the night.
The tree fell onto the front of their house in Worsley, Greater Manchester, just after midnight but the couple managed to get out safely.
A Greater Manchester fire service spokesman said: "The tree had landed on the front of the house, causing damage to the house and a car next door. The couple inside luckily got out safely.
"However, they were due to go on a family holiday today and sadly won't be able to as a result of the damage.
"They had a lucky escape - it could have been much worse."
The Severn Bridge has reopened to all vehicles after an earlier closure due to high winds, the Highways Agency said.
#M48 #SevernBridge is now open to all vehicles both ways following a reduction in wind speeds. Lane restrictions in place but bridge open
The A282 Dartford Crossing Queen Elizabeth II Bridge has fully reopened in both directions after it was closed earlier due to the high winds.
Motorists were warned to expect long delays in both directions.
Load more updates