£5.5 million has been set aside by the Government to support a potential merger between Wiltshire and Dorset Fire & Rescue Services.
The bid was made by Wiltshire Fire & Rescue Service on behalf of the two organisations and is one of 37 projects nationally to win financial support.
Public consultations will now take place in both counties to decide whether to combine their forces.
The so-called bedroom tax - otherwise known as the under-occupancy charge - is hitting the most vulnerable people in society, according to a councillor in Stroud.
It was introduced to try to free up under-occupied properties for families but campaigners say it should be scrapped. The Green party in Stroud says that the bedroom tax is hitting the wrong people.
Advertisement
An inquest will begin today into the death of a 12 day old baby at Bristol Children's Hospital.
Harley Pascoe was born with half a heart. His operation was cancelled five times because - his parents were told - he wasn't ill enough to need it urgently.
Harley is among 32 babies and children who have died on Ward 32 - Bristol Children's Hospital's cardiac unit
Banksy's latest artwork - which has appeared on a wall in Bristol docks - pays tribute to the work known as the Girl with a Pearl Earring by the Dutch painter Vermeer.
We thought you might like to compare the two...
Advertisement
The graffiti artist Banksy has once again chosen his home city for his latest work.
The mural, which pays tribute to Vermeer's girl with a pearl earring, has gone up on a wall in Bristol docks, near the Cottage Inn and ss Great Britain. Banksy's trademark sense of humour comes into play again though - with a burglar alarm standing in for the original's jewellery.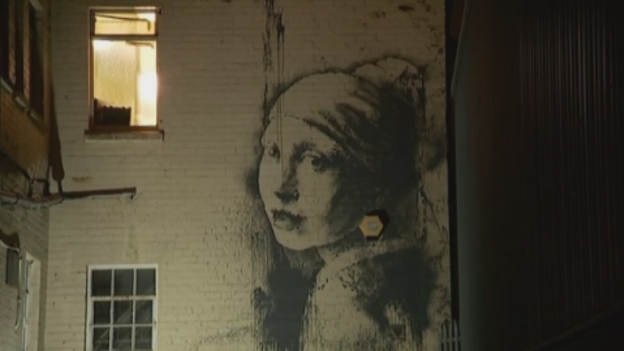 X Factor singer Chloe-Jasmine Whichello has revealed she is planning her revenge on Simon Cowell - by naming a new hamster after him and watching it run round in circles.
The 23-year-old model, who went to Wells Cathedral School, lost the sing-off against eight-piece boyband Stereo Kicks on last night's show, where the TV mogul told her that she lacked passion.
It meant a double elimination for her mentor Cheryl Fernandez-Versini, who also said goodbye to another of her acts Stephanie Nala.
Whichello said she was unhappy that Cowell appeared to be preserving his own acts and then teasing his fellow judges.
She said: "I respect him very much as a businessman. His brainchild of The X Factor is spectacular.
"What I didn't agree with was, he had all of his acts secured and sat down on the panel to intimidate the other judges."
She added: "I'm now about to purchase a hamster, call it Simon Cowell, and it's going to be running around a kennel."
Here's a map of Bristol docks showing where you can track down the Bristol graffiti artist's latest work. We've called it "Girl without an Earring".
A little local knowledge in our newsroom has located the new Banksy near the Cottage pub on Hanover Place in Bristol docks.
Load more updates
Back to top