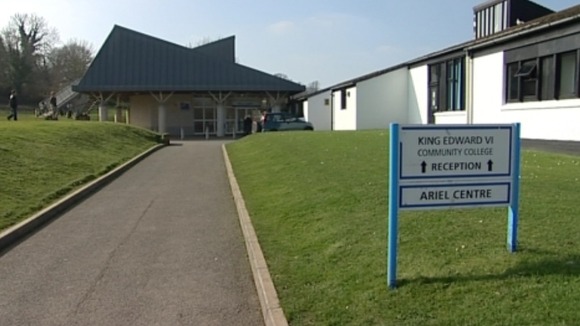 King Edward VI Community College in Totnes is tore-introduce uniforms for students after getting rid of them nine years ago.The majority of the school's 1,800 pupils voted in favour, and there wasoverwhelming support from parents and local junior schools.
Governors at the school, known locally as KEVICC, sent out more than six thousand questionnaires before making their decision.
In 2003, KEVICC became one of the few state secondary schools in the UK to introduce a non-uniform policy. The College worked to a simple dress code rule; all students should be clean, comfortable and covered. It was a forward-thinking and exciting decision at the time; it was something we were proud to do. Times have changed, however, and we have been hearing concerns from many quarters; from our own students, parents and staff, and the parents at our feeder primary schools. Recently, current students have commented on how they struggle with the types of fashion available today with the peer pressure arising from clothing styles and labels
– Kate Mason, Principal KEVI Community College

Staff don't believe it will lead to improved academic results, but everyone is hoping it will foster greater community spirit. They don't regret the decision of nine years ago
No not at all, I think the time was right. I think fashions have changed tremendously. I think the pressures on our students, it's far far more diffcult than it was then. It was the right thing to do. But we are moving forward.
– Gail Snodin, Religious Studies team leader

Many students said it was difficult to avoid pressure to be fashionable.
I'm one of the people who voted for the uniform because I think it'll make a lot of difference in the way people act at school and they won't get bullied on what they wear.
– Hannah Souch, year 9 student

But some pupils didn't want to lose their individuality.
They still think it's important to have individuality. And I think they want to keep themselves. They don't want to be the same as everyone else. They think it's important, and Totnes being the area it is, that everyone does chose what they get to wear.
– Jake Chisholm, year 11 student

The governors discovered that the uniforms were an issue with parents of younger children.
Some parents at our feeder primary schools have indicated that the non-uniform policy is a barrier to them choosing KEVICC for their child's education.
– Kate Mason, Principal

Some parents also expressed concern over the potential safety issues for non-uniform students on an open college site where staff, sixth formers, students and members of the public visiting the site can become indistinguishable

Has the decision to abandon uniforms proved to be a failed experiment?

Now the students and staff will start work on designing their new uniform. They say that cost, practicality and equality, will be important to their decision. Consideration will also be given to how and when to introduce the uniform.

Sixth form students will continue to wear their own choice of clothes.