Ken Goodwin reports:
A convoy of boilers brought a small town to a standstill today. The huge loads were being taken from a shut down nuclear power station to sharpness docks. Each of the two boilers weighs three hundred tonnes - more than twenty five buses - and a whole team of engineers were needed en route to take down phone wires and move power cables, lampposts and road signs.
The boilers had started their journey earlier on at the site of what was Berkeley nuclear power station. It was shut down in 1989; the boilers are part of the long decommissioning process.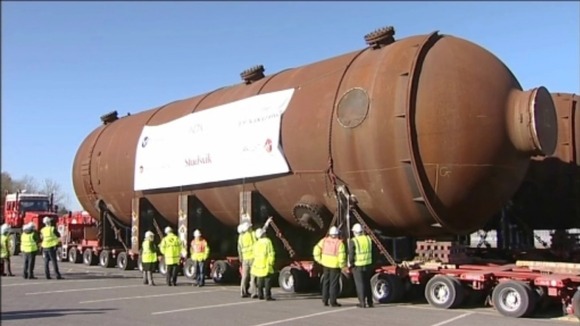 The boiler, pictured above, was used to transfer heat to the reactor core. Up through the boiler, to generate steam, and this drove the turbine.
It's an enormous moment in the decommissioning of Berkeley site and of course the local community has been heavily involved so a lot of interest from locals people and those who worked at the site.
– Steve Mc Nally, Site Director

It wasn't just badly parked vehicles they had to contend with – there were phone lines – many had already been cut down – and power cables which had to be lifted up.

They got through to the docks and then the boilers could be driven onto a huge barge which would take them to Avonmouth.
When we eventually have all 5 down at avonmouth a larger sea going vessel will come in and we will load them and take them to the facility in Sweden.
– Nigel Kitt, Abnormal Load Engineering

Part of a long slow journey – but not as slow as decommissioning Berkeley nuclear power station – that won't end until at least another 60 years.