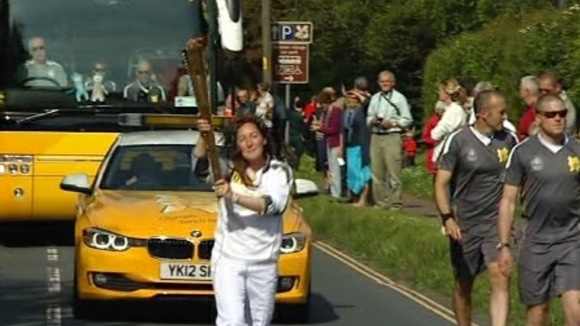 An Olympic torchbearer who sold her torch for charity says she'd devastated after a £150,000 bid turned out to be fake. Sarah Milner Simonds from Somerset says she's also had dozens of abusive messages critisising her decision to put her piece of history up for sale.
This was Sarah Milner Simonds' moment in the spotlight. She'd been chosen as a torch bearer because of the work she does in her community.
But her decision to sell the torch and benefit that community has led to a £150,000 hoax and dozens of abusive messages.
I'm sure they were really well intentioned and felt strongly about Olympic values and things but when they objected so much that they took the time to write really abusive emails to me through ebay, I was really hurt. Really hurt.
– Sarah Milner Simonds, torchbearer

Sarah who lives in Burnham-on-Sea, planned to use the money for her community project which helps bring people together through gardening. She says she never could have imagined her well meaning intentions would have generated such a negative response.
They have taken away some of that shine of my experience of the torch relay but it's just a short week isn't it. I've learnt that some people are very quick to judge but I kind of already knew that and it's certainly not going to deter me from doing the things that I'm really passionate about. I definitely plan to raise some money and do some good. As for what happens to the torch- I haven't decided.
– Sarah Milner Simonds, torchbearer

So the torch's future is uncertain but Sarah is hoping some good can come from this small part of history.