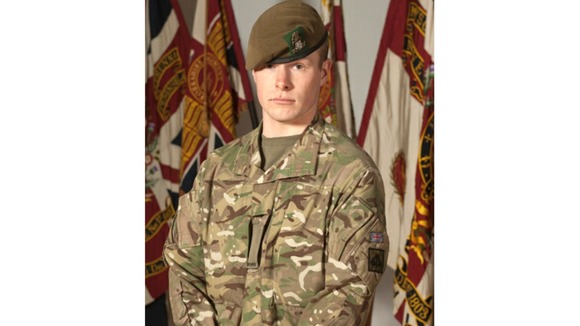 A Warminster-based soldier killed in Afghanistan during a mission to rescue a kidnapped policeman has been named by the Ministry of Defence.
Private Gregg Thomas Stone from 3rd Battalion, the Yorkshire Regiment, was shot on Sunday in Helmand province.
He leaves behind his wife Samantha and mother Angela, father Robert, brothers Kallum, Jamie and Graeme, and sisters Rosie and Jennie.
Gregg and I were childhood sweethearts and we met at school – he was my soul-mate. He was a brilliant husband and a family man who loved his family. He was always the one to want to make us laugh – he always cheered everyone up.

He was proud to be a soldier and for what he had achieved in his work.

He would also want me to mention his dog Benji who he loved to bits.
– Samantha Stone, wife

The 20-year-old was part of a team who helped rescue policeman Abdul Walid from insurgents in the south of Nahr-e Saraj district.
He will always be a true hero in all our hearts! Anyone who was blessed enough to have known him will know how much of a credit to his friends and family he was.

Words cannot begin to describe this great loss, and we are exceptionally proud of Gregg for everything he was, has, and still is.

Gregg was the kindest, funniest, friendliest, most popular lad that you could wish to meet. This is the saddest loss of our laughing boy.
– Family tribute

3 Yorks' are based at Battlesbury Barracks in Warminster, as part of 12 mechanised brigade.

His death takes the number of British service personnel killed in Afghanistan since operations began in 2001 to 416.
Gregg was a happy outgoing soldier who enthused those around him. He was respected and admired by his fellows, as someone who was totally selfless and cared deeply for others.

His colleagues and friends describe him simply and unequivocally as a 'legend', such was his outgoing and upbeat nature. His hard working attitude and eagerness to soldier, coupled with his friendliness and compassion, made him the perfect Yorkshire Infantry soldier and we are proud and honoured to have served with him.
– Lieutenant Colonel Zac Stenning MBE, Commanding Officer, 3rd Battalion The Yorkshire Regiment

Read more tributes here.