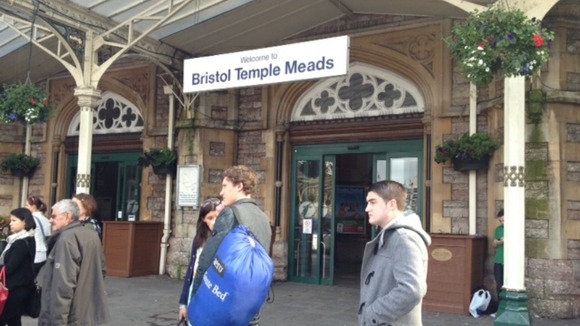 Commuters travelling into Bristol have been named as the third most miserable rail commuters in an index published by Campaign for Better Transport today.
The transport charity looked at how train services in 11 cities perform on affordability, overcrowding and punctuality. Unlike existing passenger satisfaction surveys, which are based on individual train companies, the Happiest Commuter Index shows how the different attributes that make up satisfaction with train services affect overall happiness for commuters in specific cities.
The charity found that commuters travelling into Cardiff should be the happiest thanks to more affordable fares and less overcrowding, whilst Manchester's commuters are likely to be miserable due to higher fares relative to wages. Bristol commuters are also likely to be unhappy, scoring low for affordability and reporting the worst punctuality of all the cities. The index supports the case being made by city leaders in Bristol for them to have more control over local rail services.
The cities in full from the happiest commuters down to the least happy are:
Cardiff
Newcastle
Nottingham
Birmingham
Leeds
Liverpool
Leicester
Sheffield
BRISTOL
London
Manchester
Surveys show that affordability is the most important issue for passengers, even more than punctuality or overcrowding, and our list shows just how much it affects their experience of rail travel.

Whilst passengers in Cardiff and Newcastle are likely to be happy with their commute, they may not be so happy if the cost of their season ticket starts to rise to levels seen elsewhere in the country, something we know the Government is seriously considering.

With rail fares already sky high across the country, and the Government set to raise fares by 3 per cent above inflation next January, the chances of finding happiness on the daily commute are going to be slim.
– Richard Hebditch, Campaign for Better Transport

The index has been published to coincide with the final week of the fares review public consultation.

The Government has already indicated it is considering things like discount fares for part-time workers, more smart and integrated ticketing and super-peak tickets to reduce demand on the busiest services.

Campaign for Better Transport is urging passengers to have their say on the future of fares before the review closes on Thursday 28 June. To take part in the Fares Review visit the Campaign for Better Transport website.

Vinita Nawathe, who is a director of passenger group, TravelWatch SouthWest, explains why rail commuters in the West might be miserable:

First Great Western's Dan Panes says they are surprised at the results:
We're surprised by the conclusions drawn by this survey - our fares offer great value for money, and last month around nine out of ten of our commuter services in the Bristol area arrived on time.

CBT's own figures show that at around 17p per mile, the cost of travelling by train is around a third of travelling by car.

The crowding figures are from 2010, and do not include our investment in additional carriages in the area over the past year, which has delivered more than 900 additional peak seats, and a further 900 seats are due to be in place in the coming months.
– Dan Panes, First Great Western

We asked rail commuters at Bristol Temple Meads this morning if they agreed with the results of the survey: