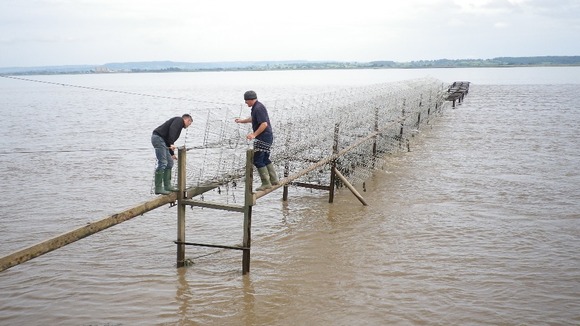 The only full time salmon fisherman on the river severn says that new regulations risk putting him out of business and destroying a traditional way of life which dates back centuries. Nigel Mott fishes for wild salmon near lydney using putchers, wire cages which the salmon swim into as the tide ebbs.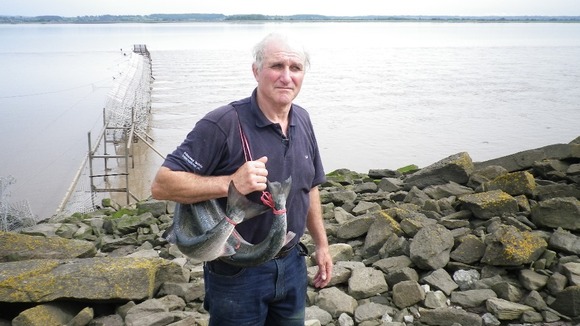 He's been doing so since the 1970s. But now the Environment Agency, which licences river fishing, has told him that this year he can catch no more than 30 fish. Previously he was allowed to caatch as many as he liked.
Mr Mott says his business cannot survive on such a small catch and so he has decided to try to challenge the decision in the courts. He has deliberately caught 3 more fish than his quota allows, and invited water bailiffs from the agency along to see them. They seized the fish and will now pass their evidence on to the agency's legal team.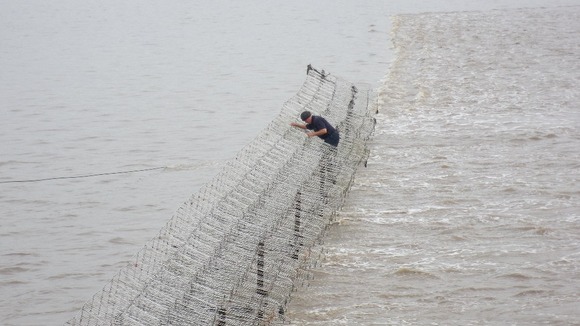 Mr Mott says that his form of fishing has minimal impact on salmon in the severn, as his putchers stretch out for just a couple of hundred metres or so into the river. That leaves a mile of open water for the fish to swim past his cages. He says that people have been fishing this sustainable way for generations, but now he and his son are the only ones who do it full time.
He is now waiting to hear if the Environment agency will prosecute him for exceeding his 30 fish limit.
The Environment Agency has issued the following statement:
The Environment Agency has had to impose catch conditions because salmon levels on the River Wye are in worrying decline over a number of years and the population is threatened. Evidence recently published concludes that up to 90 per cent of the salmon caught in the Severn Estuary may be destined for the rivers Wye and Usk. We need to reduce the number of salmon killed to allow as many as possible to return to the River Wye to spawn, thus helping to increase the population in future years. We are managing salmon populations so that they return to a healthy and sustainable level.We have also required rod fisherman to do their bit. Anglers now have to return all the salmon they catch on the River Wye back into the river to allow them to spawn.

We have listened carefully to the Severn Netsmen Association and wherever possible,taken their views into account. The net fishery in the Severn Estuary is unique, and has a important cultural and heritage value. To allow these heritage fisheries to continue, we have capped the number of salmon that can be taken by netsmen and putcher fisheries but at a level that doesn't impact significantly on the River Wye salmon stock.
– The Environment Agency