Police are warning horse owners in the Forest of Dean to be on their guard after several ponies in the area were attacked. Some had their manes and tails cut, while others had their faces burnt.
It happened at the time of the Summer Solstice in the village of St Brevills Briavels. Some believe the horses may have been targeted as part of a ritual.
Kay Coleman and her daughters are distraught after a sick attacker hacked the manes and tales and burnt the faces of their beloved animals.
They keep nine ponies and horses in the village of St Briavels in the Forest of Dean - only a few miles from Monmouth where a similar attack was reported on Facebook.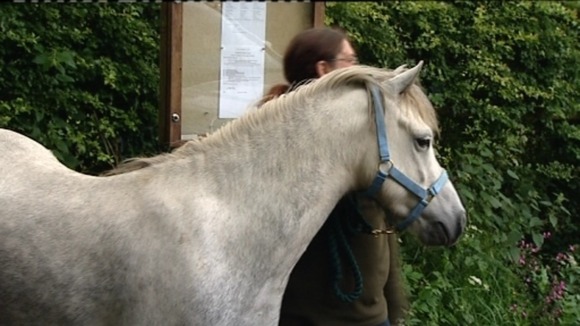 It's very distressing because you know one in particular was left a little bit wheezy where his larynx had been a bit bruised. They were all swollen behind their heads and they were sore and they were upset and it was really, really distressing because I don't think anybody should do it to any animal and certainly not to mine.
– Kay Coleman, horse owner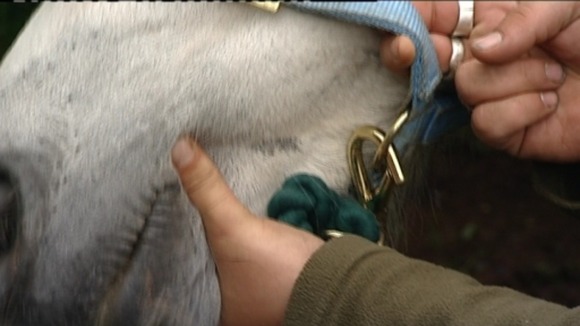 I think they were trying to get his whiskers for some unknown reason but his mane used to be sort of this long. It's been lifted and cut. There is a burn on his face.
– Carrie Coleman, daughter

The incident happened at the time of the Summer Solstice and some people in the village believe it could have been the work of Satanists who want horse hair for black magic rituals. It's not the first time that something like this has happened in the area. Three years ago the local vicar here warned of an increase in Satanic activity after a severed sheep's head was found mounted on a stick outside the church.

At the time, the vicar issued a warning to parishioners against dabbling in the occult, but he believes this recent attack is more likely to have been carried out by someone with psychiatric problems. Kay agrees.
I don't subscribe to the theory it was anything to do with the Solstice, I really don't. I just think it was somebody - either just messing or maybe gathering hair or just being horrible. I don't subscribe to any Satanist theory at all.
– Kay Coleman, horse owner

Daughter Carrie has come up with an even simpler explanation.
Well I don't know but there is a new fashion for the horse hair jewellery. It was started in good honour but i think people are thinking it might be a way to make money and they've come and taken lumps off them because they've got pretty manes and tails - haven't you?
– Carrie Coleman, daughter

Whatever the reason, Gloucestershire Police are urging horse owners in the area to be on their guard.

Watch the full report: