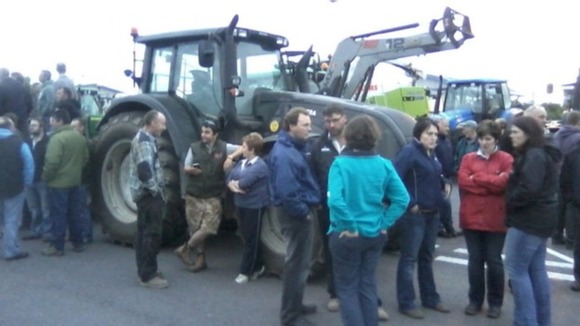 Supporters of the organisation Farmers for Action used tractors to block a Robert Wiseman Dairy processing plant near Bridgwater, Somerset, last night.
They are protesting at the price they are paid for a litre of milk. In the last three months the price paid per litre has dropped by 2 pence and will drop by another 2 pence by 1 August.
Farmers are hoping the dairy will reverse its decision and pay them the money they have lost but many fear the shortfall will force them out of business. Some farmers are being paid less for their milk than the cost to produce it.
These people have got greedy, and they have squeezed us and squeezed us to the point we have got to. We have got to fight for the industry because if we don't the industry is going to go.
– David Handley, Chairman, Farmers for Action

Robert Wiseman Daries have released a statement saying they understand the farmers' position but that they cannot fund the milk price at the previous level.
We fully understand the strength of feeling amongst dairy producers and continue to engage with those with an interest in the dairy supply chain.

It is important to stress we are not in a position to fund a milk price at the level it was prior to the global collapse in the value of cream.

It is our hope that the market for liquid milk and bulk cream which is at the core of this issue will quickly find a balance which will allow us to return improved prices to farmers.
– Spokesman for Robert Wiseman Daries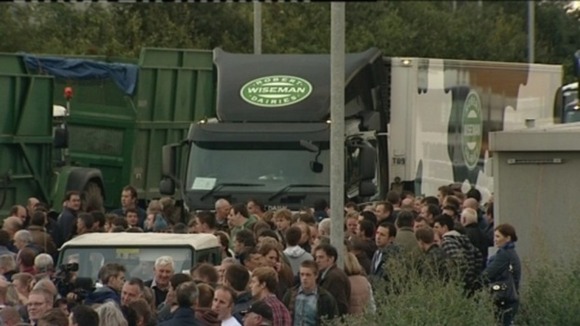 James Small, 36, a livestock farmer on the Mendip Hills in Somerset said he supported his dairy colleagues at the protest near Bridgwater.
There are an awful lot of young people, who obviously want to have a future in dairy, and farming in general, and they're voicing their concerns about whether there will be a future given the current crisis.

The sense of frustration and anger is palpable amongst the people here, they all feel a huge injustice about it all.

Processors like Wiseman or Arla or those types of companies are being dictated to by the major retailers - they are the ones who are really forcing the price down.
– James Small, Farmer

Mansel Raymond the National Farmers Union dairy board chairman told MPs this week that farmers "will not have the heart to go into the winter" if milk prices stay where they are.

The latest cuts will see farmers paid around 25p a litre for milk, but Mr Raymond said the cost of production was 29p a litre, meaning a sale price of 29.5p was the minimum they needed to remain viable.
"There was a price cut about a month or so ago of about a penny and a half on our milk and now three of the large buyers have announced a price cut starting from August 1 and that's really stimulated the dairy industry into action.

"This summer has been terrible, farmers have been producing below the cost of production, they've been paid below the cost of production for a while and now this will be three and a half pence to four pence below the cost of production that they are getting paid.

"It's really put the industry in an unsustainable place."
– Anthony Rew, Milk Farmer, Newton Abbot, Devon