Olympics 2012
South Gloucestershire archers inspired by Larry Godfrey
by Naomi Lloyd
Having finished fourth in the ranking round yesterday it was tough to go out at the first hurdle. But Team GB were soundly beaten by Ukraine going down 223-212.
At Larry Godfrey's training ground, Cleve Archers in Hambrook, the junior club were doing their Saturday practice.
Amongst them Larry''s niece Erin who was having her first archery lesson.
I've always wanted to do archery, because when i tried doing it on year 5 camp it was really fun. So what would be your dream when you're a grown up. Probably to either do archery in the Olympics probably.

It makes me feel privileged to be his neice so I feel really happy that we're related and I've always wanted to be like him because he's so amazing
– ERIN CLAY, Larry Godfrey's niece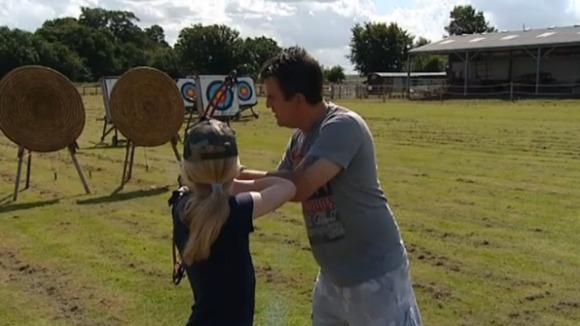 Team GB may have been knocked out this morning, but that's not putting these youngsters off their shot. Larry Godfrey is a bit of a hero round the club and there are still high expectations for his individual event later this week.
I think he's got a very good chance. he is shooting better now, than he's been shooting well when he was going to Athens and everything and his confidence is really high, but what happens in these head to head competitions, you've only got to make one mistake and you're out.
– RICHARD JONES, Club Chairman & Senior Coach, Cleeve Archers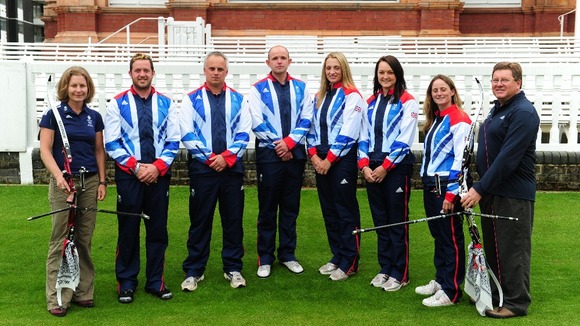 For the young archers, an Olympian amongst them means they're inspired to aim for the top.
This is the legacy that the 2012 Olympics is leaving in South Gloucestershire.