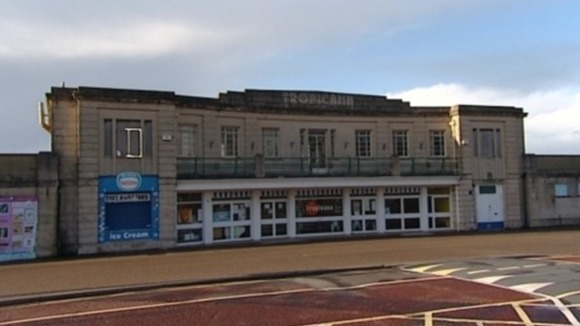 The demolition of the derelict Tropicana building in Weston-super-Mare has been given the go ahead by the Government. The Secretary of State for Communities and Local Government, Rt. Hon. Eric Pickles MP, approved the application to get rid of it, after it was referred to the government in March.
Plans to find viable alternatives by campaigners have been unsuccessful.
North Somerset Council say the Secretary of State confirmed the following things in his decision letter.
-The building has not been subject to deliberate neglect or disrepair
-The scheme proposed by Trop (WSM) Ltd is neither viable nor deliverable.
-The demolition of the Tropicana and its return to beach and sea wall would have a positive impact on the Conservation Area and the tourist sector.
Councillor Tony Lake said he welcomed the decision.
We welcome the Secretary of State's decision. Over the last 12 years there have been three schemes to develop this seafront site, all of which involved knocking down the current structure.

For one reason or another, these schemes did not go ahead. We welcome the fact that the Secretary of State has recognised the efforts made by the council in attempting to redevelop the Tropicana site and the process for site demolition will now begin."
– CLLR TONY LAKE, NORTH SOMERSET COUNCIL

But Lib-dem councillors have called the decision a 'whitewash' and say they will carry on fighting.
Six Conservative councillors took the decision to demolish the Tropicana in the face of public opposition. One Conservative Minister has rubber stamped their decision. This has got whitewash splashed all over it.

There is an alternative plan, the building is not beyond its useful life and many people want to see the site saved as a leisure development. On all three fronts Conservative councillors and now Conservative ministers have not listened.

This is very disappointing news but does not end the fight."
– COUNCILLOR MIKE BELL, EADER OF THE OPPOSITION LIBERAL DEMOCRAT GROUP ON NORTH SOMERSET COUNCIL