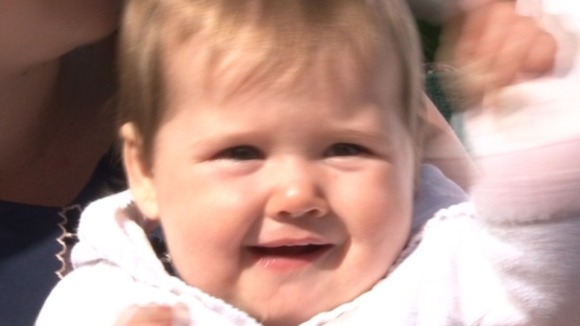 A mum from Bristol whose baby daughter survived meningitis is encouraging her community to Be Meningitis Wise during Meningitis Awareness Week (17-23 September).
Meningitis and septicaemia affects around 3,600 people in the UK and Ireland annually. They are deadly diseases that can strike anyone without warning, killing one in ten, and leaving a quarter of survivors with life altering effects from deafness and brain damage to loss of limbs.
In January 2012, at only five weeks old, our beautiful babygirl, Amelie, was rushed into Bristol Children's Hospital. After three longweeks she thankfully made an amazing recovery from Group B Streptococcal lateonset meningitis.

We wanted to take part in Meningitis AwarenessWeek as it's so important for everyone to be aware of the symptoms of thisdisease and how quickly it strikes. I knew about meningitis but was shockedwhen Amelie was diagnosed with it as it's something new mum's don't get warnedabout or think about.
– Cherie Thorn

Last year the Meningitis Research Foundation launched a petition calling on the government to pursue the widest and earliest implementation of vaccines to prevent these diseases.
Over 18,000 people answered our call to action and we'representing it to 10 Downing Street.

However vaccines do not prevent all strains ofmeningitis and septicaemia so it's vitally important that the community inBristol Be Meningitis Wise and remain vigilant.
– Christopher Head, Chief Executive of Meningitis Research Foundation

As a result of support from MRF the family are organising a five-mile buggy walk along the river starting at Crews Hole, St George on Sunday 23 September at 11am. Entry is £5 with all proceeds going to the charity.
I hope lots of families will sign up for our Buggy Push. Anyone can take part, men, women and children, this event will raise awarenessand money to help fight meningitis and septicaemia!
– Cherie Thorn

To sign up for the Buggy Push contact Cherie on: 07725334485 or 0117 9679796 or email: [cheriethorn007@

googlemail.com](mailto:cheriethorn007@googlemail.com)