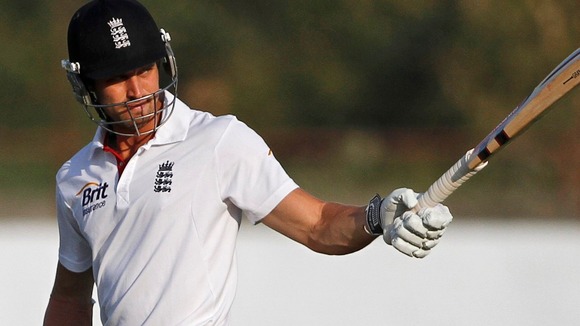 Somerset batsman Nick Compton is about to follow in the footsteps of his famous grandfather, Denis Compton. Tomorrow [Thursday], he will make his international debut in the first test against India. Before flying out, he spoke to our sports correspondent, Matthias Kurth.
Nick Compton's is a late bloomer. But at 29, he's finally come of age and established himself as one of this country's finest batsmen.
This year, Compton was the only cricketer in England to score 1,000 County Championship runs.
And now he's been rewarded with that long awaited full international call-up.
It means a lot to me. it's something I've worked towards since I was a young boy. It's something I've dreamt about watching your heroes play. it's something that's always been at the back of my mind all the way through school and during my time at Middlesex and now at Somerset.
– Nick Compton

The Player of the Year has timed his rise perfectly to coincide with Andrew Strauss' England retirement.

Compton is now vying to replace him at the top of England's talented batting line-up.