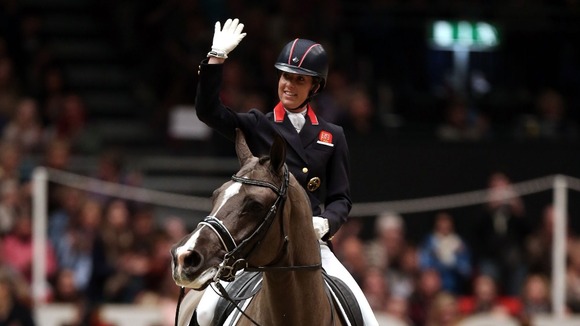 Gloucestershire's double Olympic gold medallist Charlotte Dujardin brought the curtain down on the greatest year of her career with victory in the Reem Acra FEI World Cup freestyle event at Olympia.
British star Dujardin and her London 2012 horse Valegro proved unstoppable with a performance that earned them a score of 87.975%.
Her two gold medals at Greenwich Park apart, Dujardin also set two world records and three Olympic records during an unforgettable eight months when she conquered the dressage world.
The 27-year-old won a standing ovation from an 8,000 crowd that hailed the greatest dressage combination seen since Dutchman Edward Gal and his brilliant black stallion Totilas were in their pomp more than three years ago.
Carl Hester, her mentor, trainer and Great Britain Olympic gold medal-winning team colleague led the tributes to Dujardin:
Charlotte never ceases to amaze. She is undoubtedly one of the best riders in the world because of her feel, which is to do with timing. Timing is everything, and she has it.

She seems to be able to stop things going wrong before they do, which says an awful lot about feel, but it also goes to the heart of dressage as a sport - it's about a partnership.

That five years together pays off in endless situations. The horse has absolute confidence in Charlotte. The horse could go down the M25 on the buckle (loose rein) with her, because it has that sort of trust.

The horse is one of the best dressage horses of all time - it has to be.
– Carl Hester

Valegro is co-owned by Hester and Roly Luard, and speculation has been rife since the Olympics that he would be sold for £3million or above.

Dujardin, meanwhile, hopes that a syndicate can be put together to keep the horse in Britain and enable her to continue with the ride that has brought her so much success:
Something spooked him going into the arena, and it just ruined the beginning of it. He was unsettled. It was a shame, but there were bits I was really happy with.

My first piaffe wasn't very good. With the audience that close, with that slight movement, those things can happen.

It has been a fantastic year, a dream come true. I didn't think I would be doing this show, so it's a huge bonus.

This is his first show since the Olympics, so I was a little bit on edge as to how it might go, but he is a fantastic horse. He always goes in there and tries his heart out.

What is so special about him is that he's got all that power and expression, and he does it because he wants to to do it, not because he is forced to do it.

I think that is very, very special. He wants to go out there and please everyone, and I just cannot ask for any more.

Every day to me, having the horse, is another bonus. It will be fantastic if I can find a syndicate to keep him for me to ride him.
– Charlotte Dujardin