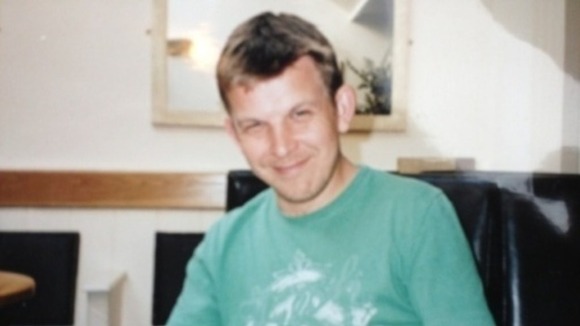 Paul Keightley was found in Bath at around ten to four on Saturday morning in Westmoreland Station Road close to Jewsons builders merchants.
He was taken to Frenchay Hospital in Bristol with serious head injuries. He's currently in a coma in a critical condition.
The discovery prompted a major police operation, with Jewsons having to close, and local gardens searched.
The 38 year old had been out drinking with friends on Friday night at the Green Park Tavern on the Lower Bristol Road - which was his local.
He was last seen leaving at around five to twelve. He was wearing a smart pair of grey trousers and a shirt.
Police are still trying to work out whether Mr Keightley was the victim of an attack or had an accident.
"We are at a loss to understand what has happened at this point in time. Obviously we've got almost a four hour window between when he went missing and when he was then seen again. We do need to find out exactly where he went in that time and it's possible that something happened immediately after leaving the public house but we've got no information. We're seeking any witnesses who may be able to assist us."
– Detective Inspector Jon Deane, Avon and Somerset Police

The mortgage advisor studied Maths to degree level and once appeared as a contestant on Channel 4's Countdown.

Anyone with information is asked to contact police on 101 or via Crimestoppers.

You can watch Daisy Gray's full report here: