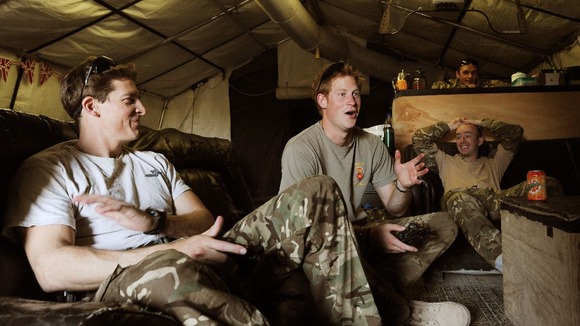 Apache pilot Simon Beattie, from Bath, has four tours of Afghanistan under his belt. On his most recent deployment his wingman was the third-in-line to the throne. He was in charge of the royal for hundreds of missions over Helmand Province.
Capt Beattie describes live in Afghanistan and working alongside the prince:
Captain Beattie, 30, said having Harry in his team seemed "no different" and he just got on with his job. His aircrew was called on to fire at Taliban fighters attacking allied troops, escort rapid evacuation sorties and troop-carrying helicopters, and act as a deterrent to insurgents.
I'm the ops (operations) officer of the squadron, but I'm also the flight lead for Harry's flight. So if you can imagine that anything we do, we do as a pair.
– Capt Simon Beattie

As the more experienced aircraft commander, Capt Beattie sat in the front seat of the lead aircraft, while Harry, on his first Apache tour, sat in the front seat of the wing (second) helicopter. The royal, known as Captain Wales in the army, was in constant contact with his fellow co-pilot gunner over the "net", and Capt Beattie would direct Harry where to go and allocate him an area of ground for him to concentrate on.

They would also communicate with the headquarters of the Joint Aviation Group in Camp Bastion and with troops on the ground. Capt Beattie - who also served in Iraq in 2006 - explained:
"We have a radio where we talk back to the guys here (at Bastion) and talk to each other on. And then we have a ground-to-air radio which is what we'll talk in to the guy on the ground or the JTAC (Joint Terminal Attack Controller)," he said. I'll often divide the ground up, give him an area that he's responsible for. So it's a constant two-way communication, or three-way, between both of us and what's going on on the ground."
– Capt Simon Beattie