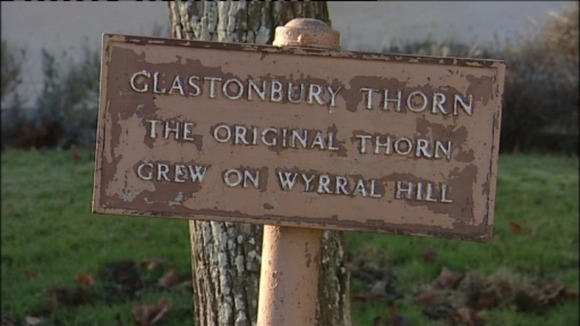 A new tree descended from Glastonbury's vandalised Holy Thorn is to be planted in the town this afternoon. The sapling has been grown from cuttings taken after the famous thorn on Wearyall Hill was cut down by vandals in December 2010.
The new thorn will be planted near Glastonbury Abbey alongside a 'Word Peace Pole' as part of a ceremony organised by the town's Pilgrim Reception Centre.
Centre manager Morgana West was behind the effort to preserve the Wearyall thorn. She arranged with Kew Gardens for cuttings to be collected from the severed branches which could then be grown through grafting onto hawthorn rootstock.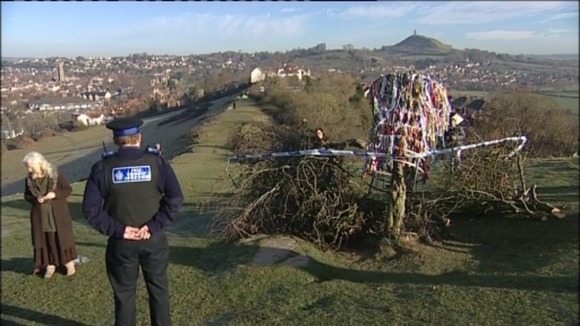 The Glastonbury thorn is one of our iconic trees in the British Isles, with legends relating to the arrival of Christianity and traditions of sending flowering sprigs to the Queen on Christmas day and Easter.

We were extremely pleased to be able to assist with preserving the original tree at Wearyall Hill by propagating it using the damaged branches in our woody plant nursery at Kew.

With the new tree planted back in Glastonbury along with several others in different locations, we hope that the Glastonbury story will continue for the monarchy and many others to enjoy.
– Tony Kirkham, Royal Botanic Gardens, Kew
We are delighted that the Pilgrim Reception Centre and Glastonbury has come together in working so hard to reinstate with the help of Kew Gardens this incredibly important piece of Somerset history and to give it the prominence that it deserves within Glastonbury.

The eyes of the world are soon to be on Somerset, with the film development Glastonbury: Isle of Light focusing on, in particular Glastonbury and to have this important part of our counties heritage reinstated will be of huge comfort I am sure for all spiritual and religious beliefs and will hopefully attract a great deal of positive and constructive interest in the coming months.
– John Turner, Vice-Chairman, Visit Somerset

Legend has it that the thorn on Wearyall Hill was said to have sprung from the staff of Joseph of Arimathea.

The uncle of Jesus Christ was said to have come to Britain following the Crucifixion.

A Hollywood film of Jospeh's story, Glastonbury: Isle of Light, is due to be released later this year.