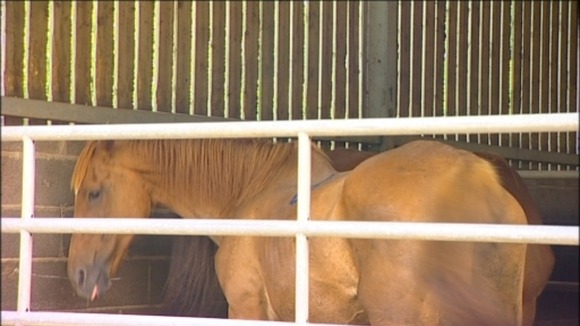 The slaughterers L J Potter, who use the Taunton abbatoir, say their main interest is producing safe and wholesome meat. They blame poor regulations for the current situation. Here is their statement in full.
LJ Potter Partners warned DEFRA that the Horse Passport Regulations would not ensure public health when the regulations were being drafted into British Law. All equines humanely destroyed by us have been accompanied by their passport permitting entry to the food chain. In addition to EU Regulations all suppliers are required to sign a declaration declaring that the animal has not been treated with drugs that would require permanent exclusion from the food chain, and that withdrawal periods have been observed for permitted drugs; prior to the 2005 regulations we required a strict 28 day withdrawal from all medication and in those circumstances we had zero positive test results for residues of Phenylbutozone during a period covering more than 20 years.

We wish to produce meat that is wholesome, nutritious, good value and, most importantly, safe. The current EU Regulations have been proved, beyond all doubt, to be ineffective in permitting us to do this; they additionally are inappropriately excluding large numbers of horses from the legitimate food chain. It is our belief that this has been the causal condition that has led to large numbers of horses entering the food chain illegitimately. The fraudulent misrepresentation of horsemeat is a direct consequence of ignorant, mis-informed, badly drafted EU legislation. It is our belief that the majority of equines with a passport signed out of the food chain have a similar residue profile to those permitted to enter the food chain, and that the current news story proves that the Horse Passport Regulations 2005 & 2009 are wholly inappropriate to the control of equines permitted to enter the food chain.

Having been informed of positive samples taken over the past two weeks, we have already taken steps to recall meat delivered to France in order to protect our French customers. We have, also, not processed horses this week to permit the FSA to put in place a test that is able to provide results prior to meat being despatched. We believe that this interim measure will ensure public safety. We will not process horses again until these measures are in place.

We firmly believe that the humane destruction of horses for the human food chain has an important role to play in ensuring horse welfare, as otherwise unwanted horses would be left to enter a downward spiral to neglect.

We are seeking a fundamental reappraisal of the legislation to permit our legitimate industry to perform its dual role in protecting horse welfare and providing customers who wish to purchase and consume horsemeat with a product in which they can be confident.
– Stephen Potter, LJ Potter Partners