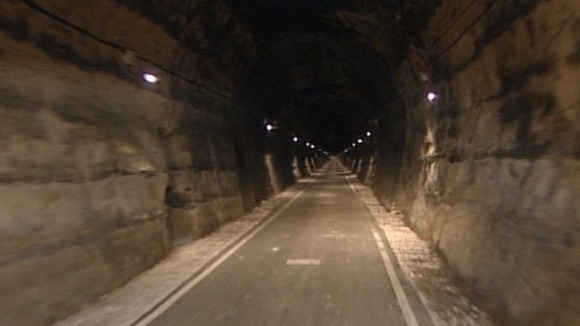 Two former railway tunnels that run beneath the city of Bath will reopen tomorrow - almost fifty years after they were abandoned. But instead of trains, it's cyclists and pedestrians who'll be able to use them.
The ambitious project has created a new route around Bath and it'll be the longest tunnel to navigate on two wheels in the country.
Fantastic asset, dormant, not really doing anything - and thanks to the Two Tunnels group and their vision for getting them open again, from Saturday they'll be able to use it!
– ADRIAN ROPER, Regional director, Sustrans

They were last used in the age of steam. Bath is a city surrounded by hills - so to create a railway line to the south, the Victorian engineers dug two tunnels - one half a mile, the other a mile long - now being reborn as part of a £4m lottery-funded restoration.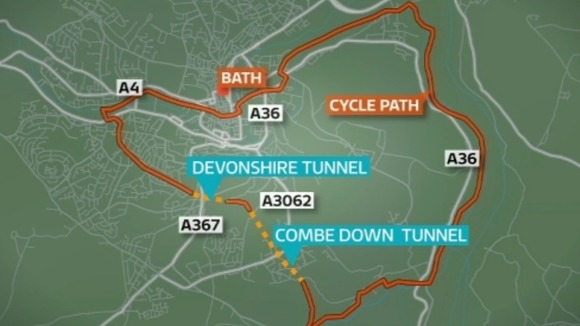 Campaigners had long had a dream of using them in some way - and with the help of Sustrans, they'll now form part of a 13-mile circular route around Bath - avoiding hills - the shorter Devonshire Tunnel, followed by the longer Combe Down tunnel. The idea was dreamed up in a pub by a group of friends.
These tunnels are a magnificent example of railway architecture. They formed part of one of the best-loved lines axed under the Beeching cuts, the Somerset and Dorset railway. When that closed in 1966, they were boarded up and abandoned - but never entirely forgotten.
– FRANK TOMPSON, Two Tunnels Group
What we're doing is a recyclng exercise. It's just the same as recycling paper, bottles or whatever - except we're doing something which is a bit bigger - we're recycling an ex-railway line, the old Somersest and Dorset, and turning it into a shared use path for walking and cycling.

These look wonderful inside - they're going to be a big discovery on the tourism scene. People are going to be coming to Bath from all over the world to see this.
– MARK ANNAND, Two Tunnels Group

The Combe Down tunnel will be the longest cycling tunnel in the country. Both will remain open round the clock, though the lights will be switched off at night to protect a rare colony of bats. Sustrans expect a million people a year to use the tunnels.

The tunnels were built to make it easier to get in and out of Bath - and from tomorrow that is once again what they will do.

Watch Bob Constantine's report on the Two Tunnels re-opening here:

And we've been into our archives to find a report Bob did in 1998 when the boarded-up tunnels were opened for a special charity walk: