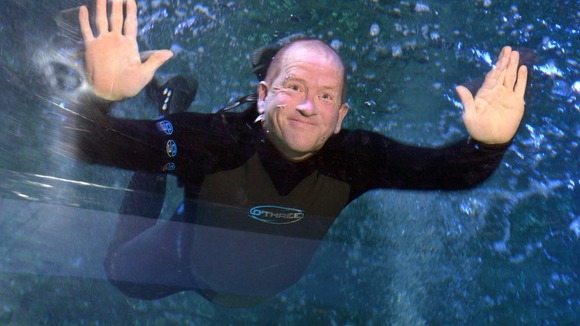 ITV Splash champion Eddie the Eagle faced a challengeevery bit as daunting as an Olympic ski jump or 10 metre diving board thisweekend.
Eddie, who's form Cheltenham, was atthe Weymouth Sea Life Park to open a bird of prey show but took the opportunityto fulfill a long-held ambition when he dived in a tank full of tropical sharks.
Eddie is an enthusiastic snorkeler and asked if he could take the plunge in our ocean tank.It's not something we allow very often, but he's such a good sport we couldn't turn him down - and he did agree to do a bit of window cleaning while he was in there.
– Craig Dunkerley, Sea Life boss

Eddie confessed afterwards that swimming with metre-long-plus black-tipped, zebra and nurse sharks was every bit as daunting as standing on the 10 metre board for his crown-clinching two-and-a-half somersault in ITV's celebrity diving challenge.
You soon get over the initial jitters though and from then on it's a really magical experience. Being that close to sharks and turtles is something even experienced scuba divers seldom enjoy out in the open ocean.
– Eddie the Eagle