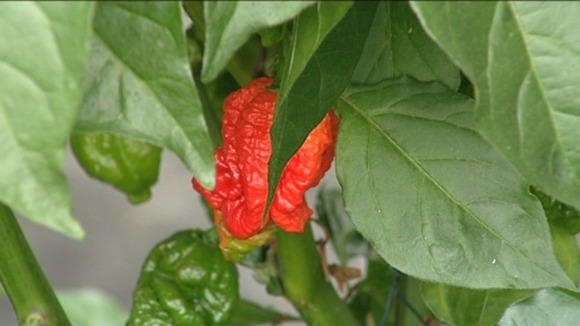 A farm in Wiltshire is experiencing growth at a rapid rate, but it is not your conventional type of agriculture.
It is in fact a chilli farm that started out as a hobby in a back garden.
Three years on and that hobby has turned into one of the largest producers in the country.
When Jamie Sythes planted 50 chilli pots in his parents back garden near Melksham, little did he know just a few years on he would be preparing to harvest 9 tonnes worth to keep up with demand for this spicy number as his Wiltshire Chilli Farm began selling produce up and down the country.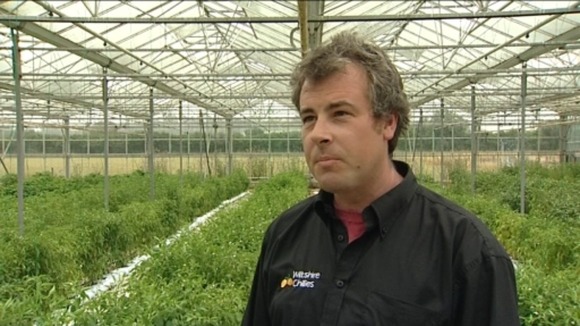 I was a business analyst during the financial crash and I thought I'd like to get out of it and spend more time with my daughters, I looked at the spice market, looked at America and saw there was a big hot sauce market, looked at England and saw there was a gap in the market and I though chillies, and with my love of spice as well, I though brilliant, I'll try growing chillies.
– Jamie Sythes, Wiltshire Chilli Farm

The farm has expanded at a rapid rate. A couple of small green houses were soon joined by some poly tunnels as Jamie began selling to wholesalers and developing his own products from sauces to jams. But yet more growing space was needed.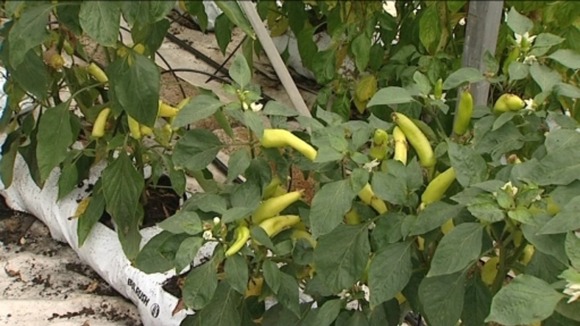 We had nearly a thousand small plants which had to be kept in the warm, so they were moved into my conservatory, which meant it was like a jungle in there for a while and they were there for two months, hopefully that won't happen again.
– Kay Sythes, Jamie's mother

Thankfully for Jamie's parents he moved much of the operation into this huge green house down the road, where 6 thousand plants are being carefully cultivated.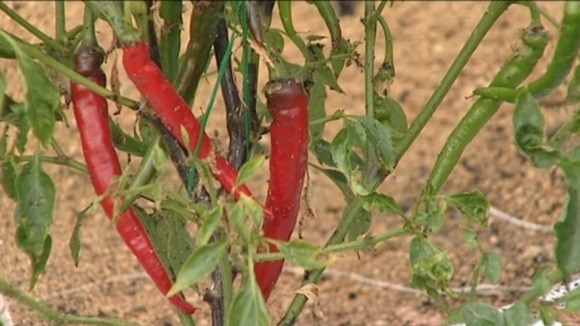 There's a whole range of products, there are so many different types of chilli, they range from slightly spicier than a bell pepper to military grade Naga 7 pot scorpion type chillies, so there's something for everyone.
– Jamie Sythes, Wiltshire Chilli Farm

And of course, you can't visit one of the country's largest chilli farms without trying a chilli and you might as well go for a hot one. Jamie kindly provided me with a Naga Bhut Jolikia or ghost chilli, which until 2012 held the record for the world's hottest chilli pepper, something Jamie neglected to tell me. He also failed to mention there were plans to use it as a non lethal weapon to flush terrorists from their hideouts and control rioters.

You can see what happened when I tackled it, in the video below: