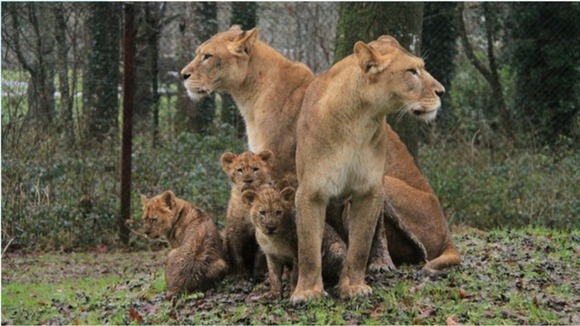 Longleat Safari Park in Wiltshire says it had to destroy five of its lions because they had serious genetic defects caused by inbreeding.
The popular attraction, near Warminster, said it had no choice but to put down lioness Louisa and her cubs because they displayed "odd aggressive behaviour".
A sixth lion, called Henry, was also destroyed at Longleat Safari Park on "welfare grounds" after suffering severe injuries when he was attacked by his brother and Louisa last month.
It came as Copenhagen Zoo confirmed it has killed a healthy giraffe because of rules imposed by the European Association of Zoos and Aquaria (EAZA) to deter inbreeding. More than 20,000 signatures were recorded on an online petition to try and save the male giraffe called Marius.
Longleat said that in addition to Henry, Louisa and her four cubs being killed, a further five will be moved to other premises to alleviate the problem.
It has noticed that over the past six months there has been an increase in violence among the pride in one of the enclosures following a 40% increase in the population caused by an explosion of pregnancies.
Longleat, which is on the Wiltshire estate of the Marquess of Bath, said Louisa's behaviour was due to "poorly managed genetic history prior to her arrival" in 2011 aged 18 months.
She was initially thought to be suffering from the effects of poor nutrition but it became "apparent that she was suffering from neurological problems" as a result of "relatively high levels of inbreeding", the park said.
The four cubs also showed signs of neurological problems such as "incoordination and odd aggressive behaviour that were not considered normal or appropriate compared to other animals within the collection".
"Reviewing the genetic lineage of Louisa and her cubs it was found both Louisa's parents exhibited relatively high levels of inbreeding, prior to arrival, at a grand parentage level and great-grand parentage level - in some cases grandparents and great grandparents being the same animals," Longleat said.

"Further reviews of the pathology of related animals revealed a high level of brain tumours, which had not previously been reported in lions, as well as a general failure of normal neurological development.

"Longleat has never seen these problems in the many other cubs born here over the years and has an extremely good nutritional programme meaning that dietary inadequacies have never been an issue.

"The only consistent link with all these neurological developmental disorders has been Louisa and this was attributed to her confused and poorly managed genetic history prior to her arrival at Longleat.

"After considering the pressures in the group, due to the recent increase in pregnancies, and the developmental disorders present in the cubs it was reluctantly decided that euthanasia was the responsible option for these individuals."
– Longleat Safari Park

Our Wiltshire correspondent Robert Murphy reports on a story which has prompted outrage from animal charities.