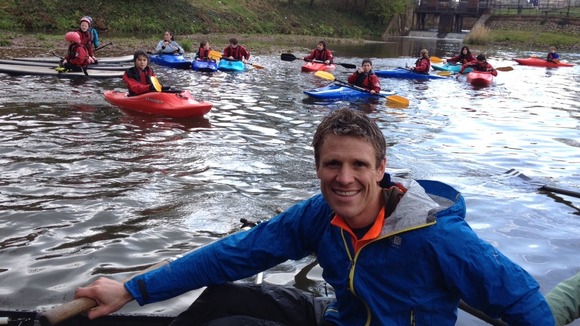 Olympic rowing gold medallist James Cracknell rowed down the River Tone through the centre of Taunton today to support a planned water sports centre for the town.
He joined a flotilla of canoes, rowing boats and paddle boards on the water.
This is exactly the kind of facility we need to offer our young people.

It's encouraging a healthy lifestyle and it will bring all the benefits that come with water sports and other sporting activities.

I can certainly speak from experience!
– James Cracknell

The £600,000 centre is being masterminded by the charity, COACH, (Centre for Outdoor Adventure & Community Hub) and headed up by local water fanatics Ian Payne and Dave Bullock from TASCC (Taunton Adventurous Sports and Canoe Club).

It's already well on the way to becoming a reality with a significant part of the funding having been secured and Taunton Deane Council backing.

Watch the full report by Bob Cruwys here: