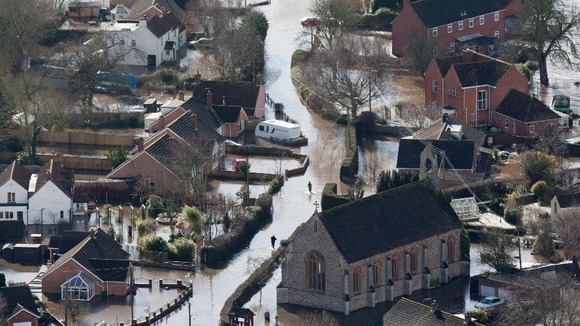 Somerset County Council have today announced plans of £20 million to prevent future flooding on the Somerset Levels. The schemes would include seeing a road raised near Muchelney which would prevent the village being cut off by flood water again. At a news conference this morning the Council said many of the schemes it is proposing could be started and finished before the end of the year.
"This is a big day for Somerset and we are confident these schemes will significantly reduce the risk of flooding in homes, communities being cut off and main roads shut for weeks on end."

"I want to stress that this is the start, not the end, and we will continue our fight for fairer funding for Somerset.

"But this is an important step for our residents, businesses and communities as we show what we aim to achieve this year to help our flooded communities, what will follow, and what we will do in other areas across Somerset. It shows that we are taking a lead in flooding here and we are delivering for Somerset."
– John Osman, Leader of Somerset County Council

The proposals include:
£1.6m to rebuild and resurface roads using more flood resilient surfacing where required
£4m for a joint County Council and Environment Agency Scheme at the A372 to raise the road, install sluice gates and enlarge the culvert under the road for the river Sowy
£5.5m to surface dress approximately 250km of roads where damage has not been severe
£2.4m for resurfacing approximately 20km of damaged roads
£1.5m for patching to repair the remaining worst potholed areas of roads
£400k for drainage
£1m for a deep clean of the drainage system and verge works to manage water flow
£500k to stabilise and reconstruct embankments.
You can see more of how the council plan to spend the money here
"We are confident that with our partners, we will significantly reduce the risk of flooding on the scale seen this winter in the Somerset Levels.

"We are confident that with our partners, we will significantly reduce the risk of homes flooding.

"We are confident that with our partners, we will significantly reduce the risk of entire communities being cut off for weeks at a time.

"The 20 year flood action plan makes it absolutely clear that we cannot promise to stop all flooding. Instead we are looking to reduce the frequency, depth and duration of potential flooding. That is what today is about."
– John Osman, Leader of Somerset County Council

You can watch our Somerset Correspondent David Woodland's report on the flood plan below: